Nikos Aliagas, TF1's preferred television host for almost 20 years talks to LiFE magazine readers about his life, his passions in life and his love for what he does.
A pretty difficult period that gave us time to reflect upon our everyday commitments is drawing to a close. Did you go through this self-reflection phase yourself?
In today's modern world we are expected from a very young age to become "someone", a sort of superhero, you have to work, to push your limits, get a good job … but we're forgetting the most important, I mean, we shouldn't be continually focusing on gaining a certain position in society. It is important not to forget what is most essential : family, love… the equation is easy to understand, if there was a lack of love before the lockdown, there won't be any afterwards! And unlike many people, my Greek temperament meant that during this period I chose not to speak out. I read a huge amount, I concentrated on protecting my family, just as our ancestors would have done. The world was given the time to reflect, but the virus is still here, we adapt how we behave. We are living in a time of contradictions and the situation is coming to a head. Our finiteness and mortality is there before our very eyes, creating a need to return to the most essential things in life.
Are there things you have changed or improved in your everyday life? What new priorities do you now have?
To cherish our freedom! I have always sought to maintain my freedom of thought, my dignity with the freedom we have. I choose the path I walk, and if I get it wrong, it doesn't matter. I've always followed my instinct, a sort of animal instinct! For both my private and professional projects. I try to be in tune with who I am to protect my family.
You have your roots in Greece where family is also extremely important. Have you ever thought about moving back to live with them?
That's a good question, the return to the island of the islander! This is a recurrent theme in Mediterranean literature. I did it when I was 30, at a time when things were going well. I was chief editor at Euronews, I was earning good money. But I still left, like a sort of family heritage. I wanted to experience the "homecoming" but I soon realized it was not such a good idea. I felt at home in Greece but my country is France, I was born here. The Greece I cherish is deep inside of me.
You are an emblematic figure on TV ut you also have a number of other activities, TV radio, writing, photography … Is there something else that could motive you?
Like writing a film you mean? I would love to direct a film. Unfortunately I'm interested in things that wouldn't interest others! I could see myself directing a short film in black and white about a gypsy's hands as he takes his clarinet apart! I want to do a number of things so I don't regret not having done them. What motivates me with the TV is the unknown: doing it live. To manage to convey something to the viewers, this interests me. It really gets the adrenaline going.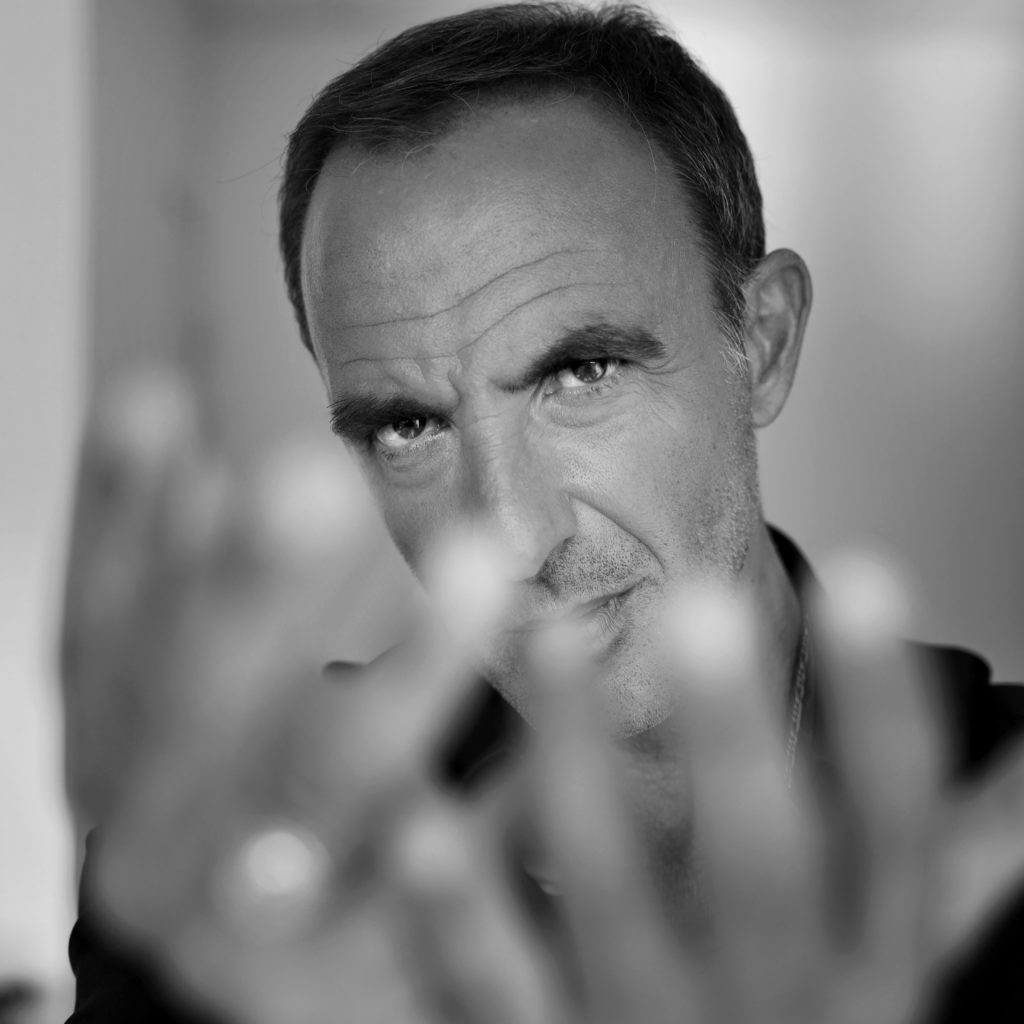 You'll soon be kicking off the tenth season of The Voice on TF1. Are you just as motivated as before or has it become something of a routine?
It's never the same story. Because with the coaches we're all in a sort of vacuum, we're together all the time and focusing on finding emotions and voices, this is our battle. The filming takes weeks. I accompany the talents. For example I was there when Kendji arrived with his family! The same goes for Amir. Many have gone on to make a name for themselves! I put others in the spotlight, like a sort of facilitator.
Will the coaches be the same?
It's too early to say, but we do get on well …
There is talk of a return of Star Académie. What are your thoughts on this, do you think it's a good idea?
It's just a rumour. It's an old programme. I'm not that nostalgic for this period in time. But, on the other hand, it could be fun to do a prime-time show with those who took part to see what's become of them.
For a long time now you've moved on from one project to another. Do you get the feeling you were born under a lucky star?
When I was born, I wasn't supposed to have survived but someone or something protected me. I had a postnatal trauma and had to be separated from my parents. I suffered, and like a lot of people in the limelight it should be said, many well-known personalities have tragic stories to tell. And this is when fatality can become tenacity with a determination to survive, like a lucky star. A natural instinct if you prefer.
Today you are also known as a talented photograph. What does photography offer that the television doesn't?
Photography offers a kind of serenity and space of time, something I don't have with television. It's wonderful. What I do on the television is for others. Photography provides access to more private emotions. I means I can reveal who people really are and portray them. It's a very special moment because they trust me to photograph them.
Could photography become your sole occupation? Would you be prepared to drop television to devote all your time and energy to photography?
We'll see … one doesn't necessarily go without the other. We'll see how things evolve, naturally. I've already lived a number of different lives, so who knows?
In just three words, how would define yourself?
A man, uomo.
What would you like to wish readers of LiFE magazine for the end of the year?
That they honour and respect every minute of life without fear, that they make the most of what they have. Life is Life!