Journalist, former member of the French Audio-visual Council the CSA from 2009 to 2015 and author of a number of books. After having been a panellist for TPMP on C8, Christine Kelly today presents "Face à l'info" on CNews, a talk show that is as controversial as it is popular. Encounter with a radiant and very determined woman.
We are going through troublesome times right now. A period that has enabled us to reflect upon what is important in our lives. Have you done any soul-searching yourself?
Personally, self-reflection is something I do on a daily basis. I continuously question what I do and this makes it easier to adapt. Today, it is more important than ever before to help others whenever possible, to listen to others and demonstrate a certain degree of tolerance. Our values as human beings should be put to the fore. A lot of people are afraid right now and I believe the time has come to transform this fear into power.
What changes have you made since our lives were transformed?  
A greater focus on family. A greater focus on everything that isn't superficial or for the sake of appearance. A greater focus on remaining calm rather than on emotions. Being settled to avoid being tossed around. I'd say my biggest change has been to strengthen my position.
What is your reply to people who accuse the channel CNews of developing a strategy based on hate to build their audience ratings and go viral?
Hate has no place on the programme and the viewers know this. Reflection and analysis yes. First you decide, the debate evolves, then you have hindsight.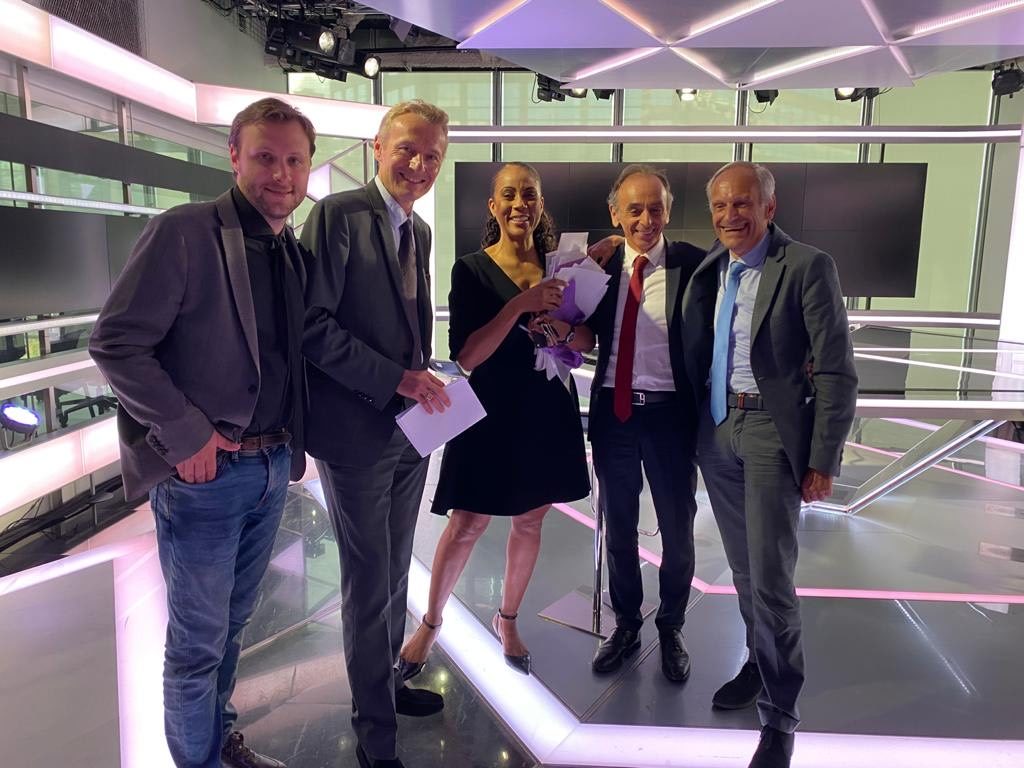 How important is it to question what you do in light of the ever increasing demands from both the channels and also the viewers? 
More channels and fewer viewers who switch to other channels to find information to decide for themselves. My time on the CSA helped me see just how the media tries to dominate the viewer. But the viewer is much smarter than we like to think, and wants to be considered as such.
What are your thoughts on the position of women in the workplace today? And in the media in particular? 
There are more and more women today who present the news on television, but fewer and fewer who appear on television as experts. Women are often presented as witnesses, mothers or victims by the media. Woman's position in the workplace is far from being at the level it should be and the means put in place today to improve this are not always the right ones.
Would you describe yourself as combative? 
I would say it is my only quality.
Could you tell us a bit more about your foundation 'K d'urgences', that you created to help single-parent families. What is the situation today?
K d'urgences will soon be celebrating its 11th anniversary. It helps single-parent families, men and women, who have to bring up their children alone. They are the first to suffer from poverty today. With the current lockdown it is more complicated to go out but we are in the process of distributing 200 masks offered by Disney to children and have a number of excursions in the pipeline. K d'urgences helps people get out, provides access to assistance and when possible, creates contacts. We recently helped a 16-year old girl who had already passed her high school degree but had to stop her studies because her mother couldn't afford to costs. We managed to find her accommodation, pay her university fees and for her clothes. K d'urgences takes action and creates action. We make the public authorities react. For example we worked on recovering alimony with the support of the government and are waiting for this to be implemented and enforced.
If you hadn't become a journalist, what would your career have been? 
A math or physics teacher. A group of four of us at high school took the bet one day and all of them went on to became teachers except me.
Do you miss Guadeloupe, the island of your origins? 
Guadeloupe is in my heart. It is part of me. My family lives there and I miss them. But I am not nostalgic. I return regularly to rediscover the joys of being a family.
You say, concerning the abuse you suffered as a child at the hands of your parents, that: "without forgiveness it is impossible to move on in life. Forgiveness liberates and allows to build on something". Just how true is that? 
Forgiveness can be a quest, a wish, a desire, and that is already a huge step forward. When you manage to do it, you know you have succeeded and everything changes. Forgiveness is like a discomfort.
What would you like to wish readers of LiFE magazine as the year draws to an end? 
To share a thought. Comfort doesn't help to move forward, discomfort does.