Martine Vassal, President of the Aix-Marseille-Provence Metropole and the Bouches-du-Rhône department is both influential and determined, but also, above all else, a woman. Here she readily confides in readers of LiFE Magazine.
We are going through some troubled-times right now. A period that has enabled us to reflect upon what is important in our lives. Have you done any soul-searching yourself ?
Yes, of course, a lot of self-reflection in such stressful times, particularly because the stormy electoral campaign recently ended and was immediately followed by the Codid-19 pandemic that deprived us of much of our freedom, so it was quite a shock. For me there were two phases of self-reflection, first in March 2020, then after the local election that I lost. That had never happened to me before! When you lose, you have doubts, but now I show others who I really am. I listen more to others and continue to want to move on despite the endless attacks from the media.
Are there things you have changed or improved in who you are, what new priorities do you have?
I was delighted to become a grandmother for the second time and I am spending more time with my family, particularly my father. Me, my father and my son all live in the same building which means we can see a lot of each other.
Your origins go back to Armenia. Like for a lot of Mediterranean people, is the family the place where you best recharge your batteries and build up your energy?
Certainly. my two children have always been my priority and my daughter has two children also. According to my son I am a bit overprotective also! The lockdown helped develop the trust we have in each other and also the shared comfort and reassurance. Respect for your family and elders is very important.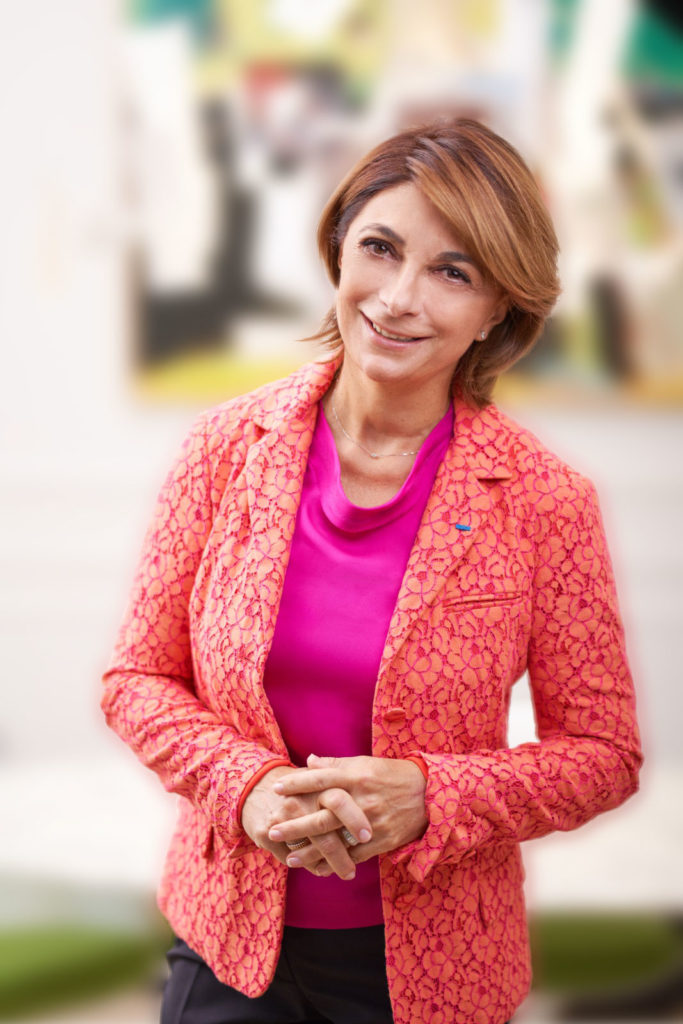 What does Martine do on a Sunday? What is your ritual for the day?
It's the only day of the week I don't set the alarm! Because I don't work I work out. After a coffee and a bowl of cereal I go out on my bike or for a hike in and around the creeks which are simply breath-taking whatever the time of year. Then lunch with friends and the evening with my father. That is my ritual.
People would love to know if you are a good cook? If you have a speciality or favourite dish for example?
I do enjoy cooking although my son is not too keen on my culinary improvisations (laughter). I can make a bouillabaisse, couscous… good family dishes. I got better during lockdown with a lot of different savoury tarts.
As a public figure you seem to pay a lot of attention to your appearance. Is it because your parents worked in the textile industry and you yourself also worked in the same sector?
I did work in the textile sector but on military uniforms! How I dress comes from my education, and also the respect I have for my position and other people. I do like fashion I must admit and enjoy leafing through fashion magazines.
Which designers are you into at the moment?
I am pretty loyal to several boutiques who know what I like, for example Liu Jo. I also have a good friend who launched a brand of fake fur and vegan articles called Apparis. The style is amazing, she lives in New York and her appearance is simply awesome! Otherwise I buy locally. I like Gertrude et Gaston, I love their neoprene jackets. I frequently come across new boutiques travelling around the department!
If you weren't into politics what would you have been?
I ran a textile company for 15 years. I think I would have taken over a company or been director of human resources to keep in touch with people.
How would you describe yourself in three words?
That's a tricky question… How about determined, courageous and in love with life.
What are your thoughts on the position of women today? You are a good example of feminine leadership but unfortunately such examples are far and few between…
A woman always wonders whether she is going to make it or not, much more than a man does. A woman has a number of roles to play also. Women should have more confidence in themselves, they are capable of taking up numerous challenges. They should be recognised not because they are women but for their skills, for what they do. It's all a question of skills! You have to reconcile many elements and I believe all women are warriors!
What is your preferred beauty product? The one you ever leave home without!
An eye liner, serum and revitalising mask. I regularly change so that my skin doesn't get used to one or another product and I cleanse regularly to keep my skin looking good.
If you had to go somewhere other than in Provence to unwind and revitalise yourself, where would it be?
In the mountains, the Alps, I love skiing!
What would you like to wish readers of LiFE magazine as the year draws to an end?
The very best of health, there's nothing more important in life.