Antoine Duléry is a popular French actor who has starred in a number of box office hits such as Camping. He has also acted for Claude Lelouch and is remembered by many for his interpretation of Commissioner Larosière in Petits meurtres d'Agatha Christie. He managed to take some time out of his incredibly busy shooting schedule to talk a bit about himself and his projects. Interview with a star of French cinema.
What adjectives would you use to describe Antoine Duléry?
A lot of people call me Mister Crazy which is pretty fitting. I would add whimsical, disorganised, sloppy even… I'm like a tireless kid, maybe even tiring. But I do think I'm quite a likeable chap!
Television, cinema, theatre … 36 years in the business, over 100 films. What do you find so exciting about wat you do?
What I do continues to amaze me. Discovery, to constantly dress up and become someone else. I would love to have a career like Serrault and play that one dramatic role I still haven't had the chance to play yet.
You have always been remarkably talented at imitating others. Do you think this helped you carve out your career in the world of cinema?
Absolutely not, quite the opposite. I definitely didn't want to be an imitator. I was very wary of this gift that could easily leave me categorised as just another imitator. So I hid it for quite a while, only bringing it out of hiding occasionally for friends and family to see. Only Claude Lelouch let me use it to play one of his roles. Later on, Muriel Robin and François Berléand decided to get me on stage with my Antoine Duléry fait son cinéma show in which I pay tribute to the actors who have shaped my career in one way or another. It's not just imitating, it's a show that tells a true story.
Do you agree that imitating others is like representing oneself?
I have just finished a drawing which is something I used to do when I was much younger. To imitate is to take the character traits of the other, quickly, gestures, the voice. An imitation shouldn't be worked on, it should come naturally. I'm like a voyeur, just like some novelists (laughter). When I impersonate, I become that other person.
You have a wonderful career and the French public loves you. How do you maintain this close relationship?
I love the public, and I'm very close to them. I'm like a good mate, it's as simple as that! Whenever I can, whether it's when I'm filming or just in everyday life, I like to talk, to discuss, to discover people.
I used to go unnoticed, today I'm proud people recognise me and I never say no to a selfie! Whenever I call Claude Lelouch he says: "the sound of your voice makes me want to smile!", that makes me really happy!
You recently appeared as Jacques Garnier in the TV series "Les ombres rouges" on C8. It's a serious role in which Jacques Garnier sees his life fall apart when his youngest daughter is kidnapped. Did you accept because you felt you needed a break from comedy?
I love comedy but serious roles have got a much higher level of emotions that make them that little bit more special.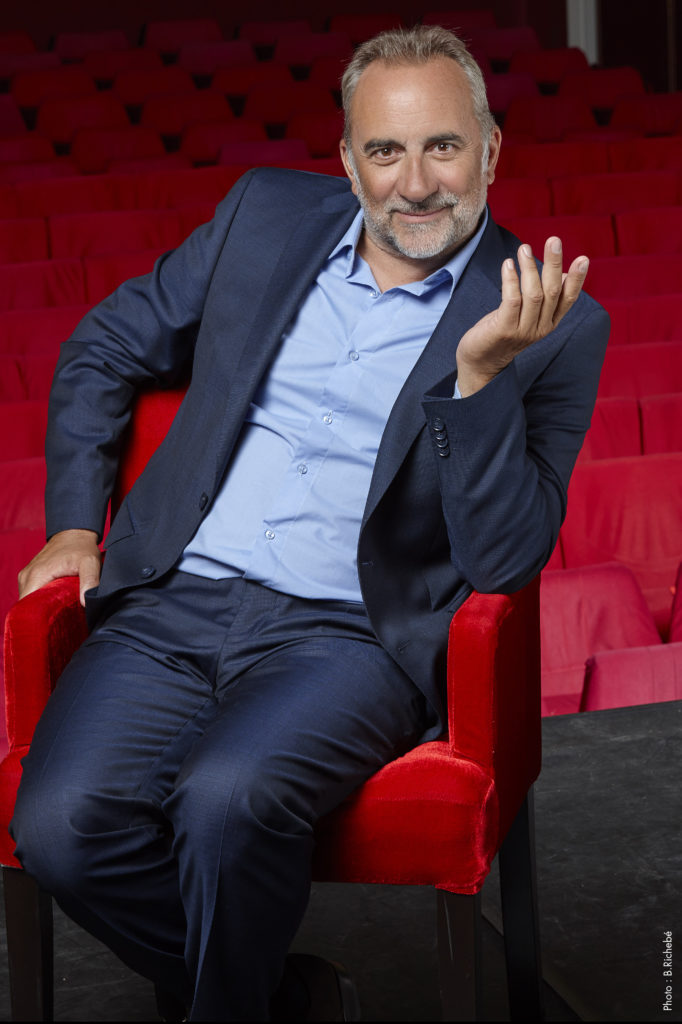 We'll also be seeing you soon on TF1 in an historical miniseries called "Le bazar de la Charité" … Why did you accept this umpteenth project?
I really quite fancied the idea of shooting an historical miniseries with period costumes alongside Audrey Fleurot, Camille Lou and Julie de Bona.
You wrote your first full-length film with the screenwriter Guillaume Laurant, could you tell us a little more about this …
This is one heck of project and one I am really involved in because I will be directing the film and playing in it with Audrey Fleurot as my wife and Alexis Michalik, a pure stage genius and great actor. The writing is finished and right now we are getting the money together to begin shooting next April if all goes well.
Your roots take you back to l'île de Bréhat, in Brittany. Is this where you go to relax and reload?
Principally yes because I spent all my holidays there when I was a kid and I still feel my childhood sensations when I go back there. My parent married there, my grandparents are buried there, I feel pretty attached to the place. It's a beautiful and wonderfully peaceful island without any cars.
Do you have any other projects for 2019?
There are loads of things I'd love to do… I'll be back on stage with my show all over France. I'm continuing Les Grosses Têtes with Laurent Ruquier. Other projects include a film with my wife Pascale Pouzadoux. As for my career, I'd quote André Gide: "One must follow one's slope, through going up and not down".
What would you like to wish LiFE readers for the future?
A fantastically joyful year. I'd also like to the see the world calm down and become more fun-loving. Let me finish with a few words from Jacques Prévert: "We should try to be happy, just to set a good example"!