Phillipe Etchebest was born in 1966 and from a very young age was immersed in a world of gastronomy. The family travelled around France, to wherever his father's work as a chef took him until 1979 when they settled in Bordeaux after taking over le Chipiron restaurant. After a day at school the young boy would help his father in the kitchens and watch him create. This was also where he learned what effort, rigour and merit really meant.
Phillipe Etchebest's future quickly became apparent. Aged 14 he entered a catering school in Talence and as a natural competitor he made this his challenge. He began to prove his worth during various internships in different prestigious establishments such as Jean Bardet in Tours and Le Gray D'Albion in Cannes. He followed this up by winning a number of competitions and championships.
He decided to return to the capital and joined the Paris restaurant Clos Longchamps alongside Chef Jean-Marie Meulieu who was subsequently awarded a second Michelin star before moving back south to Jardins de l'Opéra in Toulouse alongside Dominique Toulouzy.
Then he became head chef at Chateau Grand Barrail, in Saint Emilion. The reputed food guide Gault & Millau voted him "Best Potential" in 1999 and in 2000 he was voted Meilleur Ouvrier de France (Best craftsman). He moved to Château des Reynats in 2001 where he won his first Michelin star and his second star came when he joined the Hostellerie de Plaisance where he remained for 10 years. In 2012 he was awarded the French National Order of Merit.
At the same time he began presenting the cooking reality television show Cauchemar en cuisine on French television in 2011. He followed this up with Objectif Top Chef and Top Chef, his aim being to present his vision of catering and cuisine. Both were extremely popular and he rapidly became a household name.
Phillipe Etchebest is constantly on the lookout for new challenges and opened Le Quatrième Mur restaurant at the Bordeaux opera house where he presents a choice of daring, generous and refined dishes. Two years after its inauguration, he went on to open a second restaurant "La" Table d'Hôtes at the same address, a unique concept and experience where the chefs themselves present and serve their guests, earning him another Michelin star in 2018.*
The chef and television personality is also a fan of judo, boxing, rugby and sport in general, a passion he readily shares with his wife and son during his spare time.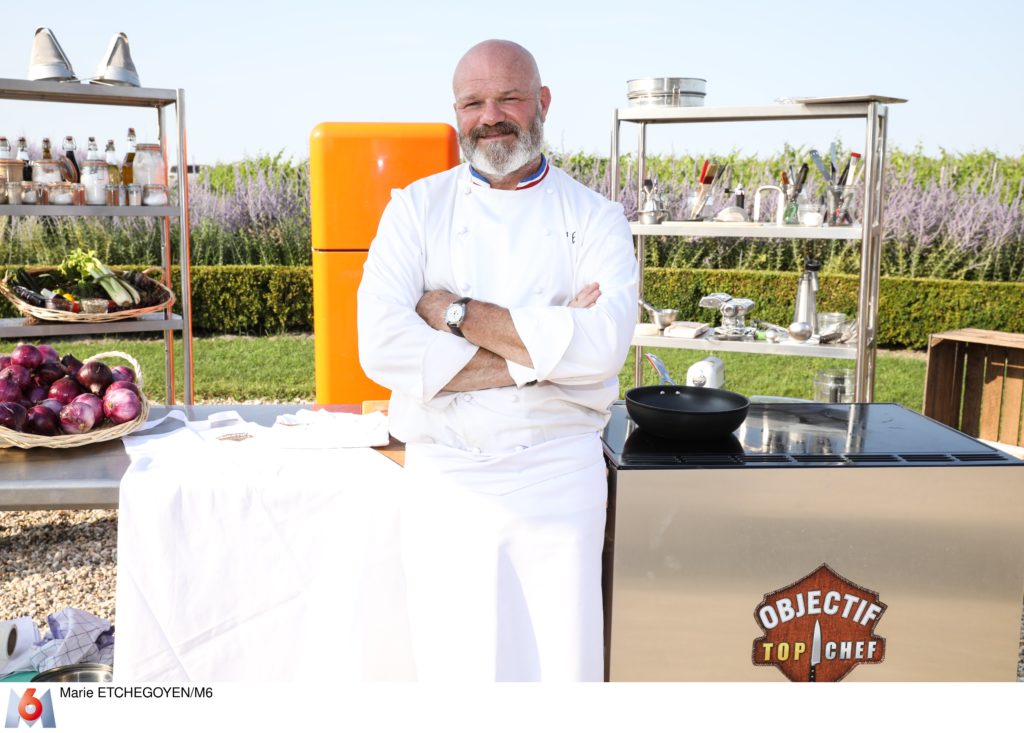 Starred chef and Best Craftsman of France, Phillipe Etchebest invites us in to talk about his projects for 2020. Get your taste buds ready!
The Philippe Etchebest we see on television comes across as someone who is hard and uncompromising. Who is the real Monsieur Etchebest?
You shouldn't take what you see as the reality. I can appear hard because I like to be direct, particularly on television, but it's just a way to get good results. However, in my restaurants, the atmosphere is always extremely calm and peaceful. I am very empathic and always ready to listen to what others have to say.
How would you define your world of cuisine?
Instinctive! I'm not an intellectual: I choose my ingredients, taste them and bring out the best in them.
What creation represents you best of all?
My signature dish is ravioli and creamy mushroom sauce with a slice of pan-fried foie gras. The menus in my restaurants change from one week to the next, but not this! I created it back in 1996 and only slightly changed it when I was awarded my Michelin stars.
What one encounter was the most decisive for you during your career?
One of the most significant encounters was with Jacques Chibois in 1987. I did an internship at his two-star Le Gray D'Albion in Cannes. I was 19 and still working with my parents in Bordeaux. He told me to move out and go it alone. I did just that and set out for Paris to begin my own career.
Four years ago you opened Le Quatrième Mur in Bordeaux which today is very successful. Could you tell us a little more about the place?
It is an institution in its own right and one that belongs to the people of Bordeaux. Although I have a gastronomic background, the difficulty was to settle into this high-end and legendary place. I didn't want to create something elitist, but rather something for everyone. So, I decided to open a brasserie with tasty and creative dishes at affordable prices. And I'm pretty proud to have succeeded.
What is it like having to balance a life in the kitchens and a life in front of the cameras?
It does take quite a lot of organising! I had a two-year transition period during which I devoted a lot to time to the television and put aside my other projects. Then I opened my restaurant. To do both was difficult which was why Top Chef came to Bordeaux! Fortunately, when filming, I have total confidence in my teams. As for my private life, I am lucky enough to work with my wife and I get to see my son when he comes home from boarding school at the week-ends.
What about your projects for the future?
I'm opening another establishment in the Chartrons district of Bordeaux with another new concept and with Camille Delcroix, the winner of season 9 of Top chef, at my side.
What can we wish you for the coming year?
To continue enjoying what I do!