Your latest album is called "Créateur de chansons". Is this what best defines who you are?
Writing songs is my job, my passion, and undoubtedly my purpose in life. But I am also beginning to sing more and more. Getting to see and meet my public at each new concert is a real pleasure. They are so important to me. Performing live has become a need. When I was younger I really had a problem with stage fright, now it has become a sort of wonderful playground.
Do you perform songs you wrote for other artists during your concerts?
Of course, and I also sing songs written by others. I feel really at home on stage so I allow myself to sing whatever I feel like singing. Being on stage should be a pure pleasure experience, both for the artist and the public. I'll be on the road through to December and it's a fantastic feeling.
'Les bouquets de fleurs' from your latest album is dedicated to the victims of the terrorist attacks. Do you find writing a way to transmit your deepest feelings?
The attacks in France and elsewhere in the world provoked huge outcry. I wanted to pay a tribute, not talk about the history, but to give hope. The lyrics came to me when I saw all the bouquets of flowers in the streets and in the press. When you lose someone close to you in such terrible circumstances, it's hard to get over it. We reacted to the attacks with flowers, this for me represents a form of dignity and pacifism. The public's reaction in their grieving for the victims was something that touched me and I wanted to highlight their dignity in this song.
How do you get the inspiration to write so many songs?
I have been writing since I was 16 and have never stopped. It's almost natural, starting with just a word, a phrase or an image. At the moment I am promoting my new album which means I have less time to myself to write. But I always have my notebook on me!
Your texts reflect a sort of escapism, the desire to be somewhere different. Is this the globe-trotter syndrome?
When I was young, one of my teachers talked about the poetry of proper nouns. You can find poetry in place names, a poetry that takes you places. 'New York me manque' is a title from my latest album and was inspired by Jimmy Fallon's TV show. When I listen to the artists on his show it makes me want to be there with them.
Is there a place you like to escape to, somewhere you would like to live?
I loved living in Africa, the country is so fascinating. I could have lived in London in the 60-70s when it was a real hive for music. There's something unique about the British approach to music. But the Domaine de Murtoli is really the place I love most, it is so amazingly peaceful.
You have over 2000 songs in your repertoire, which ones are your favourites?
Four songs in particular come to mind. 'J'aime et moi je chante' written by Gérard Loenorman, 'Elle m'oublie' by Jonny Hallyday, 'J'aime ce qui me manque' by Julio Iglesias  and also a lesser known song by Michel Sardou called 'Les bateaux du courrier' that he wrote in the early 80s. The four all mean something special to me.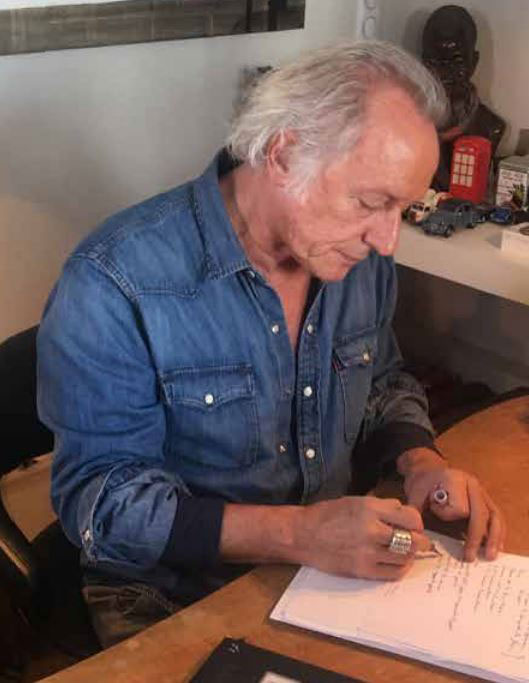 Any songs we don't know yet you'd like to talk about?
I have written a lot of songs that I am fond of but haven't performed yet. Sometimes I forget about them, but they usually come back at some point in time.
Do you choose the interpreter or is it the interpreter who chooses you?
My songs are the result of two-way encounters. And very often chance encounters.
Is there one singer you would like to offer a song to?
I wrote Julien Clerc's latest song and am pretty proud of having done so. It's wonderful to work with him. I would have liked to write for Michel Polnareff and many other artists. But as I said, it's the encounters that shape my life.
What encounters have most marked your life?
Musically speaking, my encounters with Gérard Lernorman and Jonny Hallyday. I have met numerous people who are both fascinating and captivating such as Claude Lellouche and Gérard Depardieu. Two incredible men.
Julio Iglesias also played an important part in your career…
I am much indebted to Julio Iglesias. He used to invite me to his concerts as a friend. I really enjoyed being with him during his shows. Then one day he asked me to sing with him and we sang a duo together during the following 8 concerts. Then he encouraged me to get up on stage on my own. That was when I understood I needed to share my passion with the public.
What would you say about the evolution of the music industry?
There are still singers who are heavily influenced by French music and culture such as Vianney, Calogero, Julien Doré and who continue to promote the codes of the past. As for the others, they evolve and progress with the changing times and quite frankly it's not that bad.
What can we wish you for the future?
Good health! Your health can play dirty tricks on you but my passion will never go away!
The gallery was not found!