With channel C8 enjoying the success of TPMP led by the dynamic Cyril Hanouna and his gang, LiFE magazine met up with Franck Appietto, managing director of the channel.
The past spring was fairly bleak and things are still not easy so how did C8 manage the crisis that no-one really saw coming?
We had to adapt and give priority to the health of the teams. Maybe you don't remember but at the time we had to shut down the sets and isolate our star Cyril Hanouna in his house. Cyril wanted to continue shooting so we improvised a sort of home TV to maintain a link with our loyal viewers.
What has changed since? What new strategies have been put in place?
For the sets that are currently shut to the public, we have deployed a system of screens so we can get viewer reactions in real time. We had to abandon other programmes like "Les animaux de la 8". As the manager of the channels, I would be extremely sad to learn one of my collaborators had got the virus and potentially serious symptoms. Their health must be our priority, but at the same time we don't lose hope because the channel is designed to entertain and offer happiness and optimism. New strategies? Yes, I am surrounded by a young team who are all very flexible and adaptable. We have daily group calls that go on and on until our cellphones are dead ! (laughter)
The competition is considerably stronger than before, is Cyril Hanouna the person you need to take up the challenge?
You don't create a channel to be like the others. Cyril created the format 11 years ago with the first 2 years spent on France 4 on a weekly basis then we launched the daily version on C8 nine years ago. It's very rare to see a programme with a fanbase of over one million per day last so long. There has been an increase in the number of channels in France, so audience share figures are not necessarily on the up. With 25 other channels, not to mention the theme-based channels and platforms, the offer is enormous while the potential viewer numbers have not increased. Today's TV is very different from before.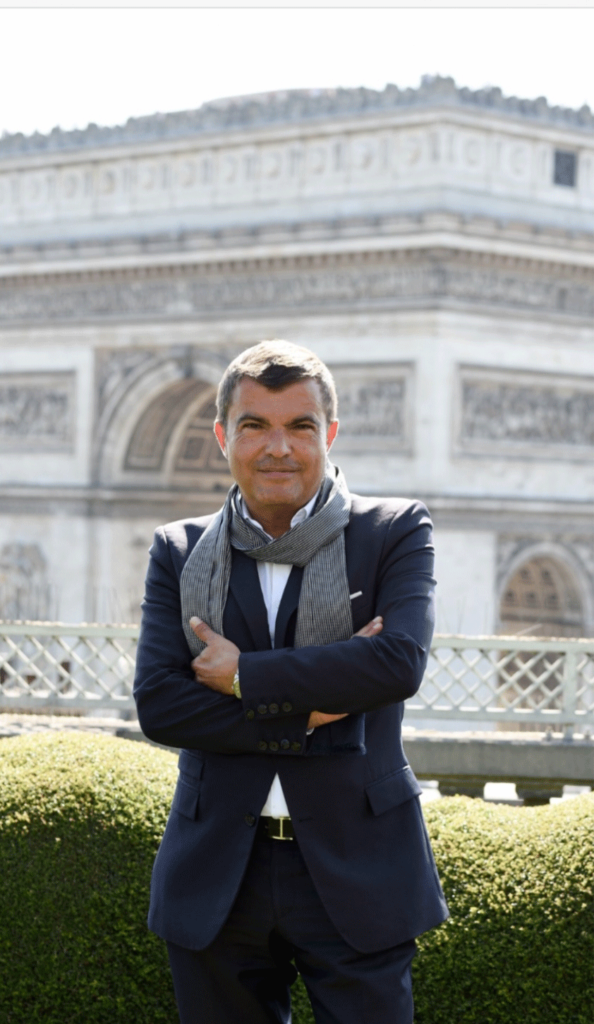 Would it be right to say C8 is a fan channel? Would you agree with that?
Yes that's correct and I am proud of the fact. Numerous studies prove this. I would also add that if today I have gained a small reputation it's because people are fans of C8 and they even know who the boss is! (laughter) It's also because I had a bit of fun with Cyril…. What is surprising however is that even years later people in the streets recognise me even with my mask on!
What can we expect for 2021? Will there be any new incarnations?
Much more than that, there are going to be a lot of new features. The current health crisis means we cannot develop as fast as I would like but a major change is coming soon. We've got tons of ideas, fun new concepts, encounters …
Is there one person in particular you'd like to see running a specific programme on C8?
I've got 120 people working on air for C8, some of whom you don't see but who are part of my talent team. What I really like is to help people without a name become someone, people who have a fixation for the television!
Why don't you have a system of co-hosting?
I don't really like artificial situations. It has become such a stereotype format and so American! Co-hosting with someone you don't necessarily know very well is not much fun, believe me. But on the other hand, I'd love to have a female-male duo, but right now no-one has come bursting into my office to sell me the idea.
Could the entertainment channel C8 devote more time in the future to political programmes and debating or this really isn't your thing? Are you happy to leave this format to CNEWS, the group's other channel?
We both have a role to play, CNEWS to inform and C8 to entertain. The news channel is becoming more and more popular and has doubled its ratings in just 1 year to be the second most popular news channel in France. The exception that confirms the rule remains "BALANCE TON POST", because it all started with a situation live on TV with Cyril Hanouna who handed the mike over to a corporation.
What projects do you have for the future?
It's a little early to reveal everything but I can say there will be a documentary on a subject I am personally very interested in, Egypt and French Egyptology called the Pyramid Builders that will be one of a collection with an international outlook.
What would you like to wish LiFE magazine readers for 2021?
The best of health above all. To remain optimistic and united. That all your LiFE magazine readers be enthusiastic