After several successful series, including the Bazar de la charité, Peur sur le lac,
Julie de Bona is today a key figure on the small screen.
We are currently in the midst of a tough situation. As an actress, how do you feel about what is happening right now?
Culture is something that is essential to us! The first lockdown took us back to what is considered key to our lives: medicine of course but also everything related to the functioning of our society, but this didn't include the artists. We had to approach the situation with humility to survive the pandemic. The situation during the second lockdown period was slightly different. The need for art amongst other things to nourish souls was understood. Personally, as a simple citizen I need art, I  miss it so much, theatre, dance, concerts, museums and even an aperitif .. (laughter). Getting together with friends is a form of art in itself. I need art to live! I was fortunate enough to be able to continue working by filming a TV drama « Plan B » in Marseille. It is important and I do appreciate how lucky I was to have been able to film at this time.
How do you manage to find a balance between your time in front of the cameras and your private life?
Quite simply by not mixing the two together! I try and keep my family out of it because when I am filming I really am all in. They do come and see me from time to time so we aren't apart for too long but I try and spare them and not put them in the limelight, to protect them. They didn't choose it and I respect that! And all being said, I'm not filming all year round! Several months per year I am at home with my family and friends, far from the spotlights.
You've finished filming in Marseille your next film Plan B, what can you tell us about this mother who succeeds in everything she does until her daughter commits suicide and her life begins to fall apart. How do you manage to control your emotions in the light of such a tragedy? 
Florence Morin is a successful woman with a strong personality who wanted to make one of all the different women within her: mother, host, mistress, best friend … with determination and a smile. At the beginning she is surprising in many ways until we learn that her daughter has committed suicide. We feel sad for her because we understands she got a lot of things wrong … She confronts and questions herself to understand her errors and to try and find a better balance between the different aspects of her personality. I created a character that I worked on seriously at Europe 1 before filming began. I did a sort of internship on Philippe Vandel's "Culture Médias" programme to get an understanding of how a radio host should be. Florence is the mother of two teenagers, which is not my case. I need to feel empathy for her while maintaining a distance between her and me.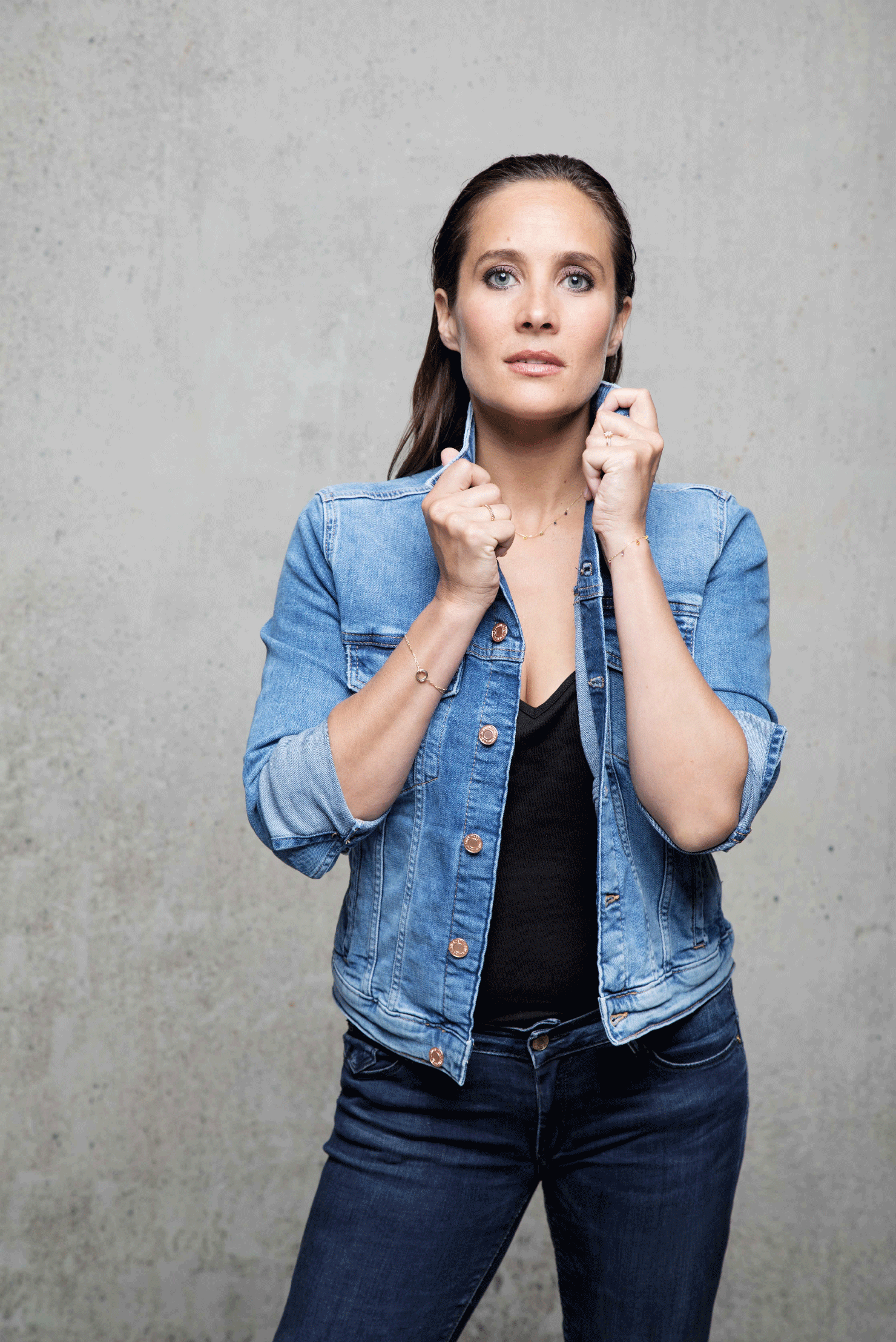 We've seen you perform in a number of series and play a number of different registers. Which
do you feel most comfortable in? Comedy or crime fiction?
Both comedy and drama! I love the two different emotions: laughter and tears. To overcome a tragic situation with laughter or add a touch of tragedy to a comedy to give it more meaning. I also enjoy science-fiction and social issues.
Which actor or actress would you love to act with?
A  starry-eyed reply would be Sophie Marceau and Vanessa Paradis. I am an out-and-out fan of these two immense actresses! I'd also love to perform alongside other great names such as Gérard Depardieu, Karine Viard, Daniel Auteuil, Juliette Binoche, François Cluzet …
What is the best memory you have of film sets?
It's impossible for me to choose just one!I could mention various encounters, for example meeting Michèle Bernier, who is both generous and joyful and who became a sort of "set mother" following the shooting of "La smala s'en mêle". Or Caroline Anglade whom I met during the filming of "Une mère sous influence" and who became a very good friend. I could also mention Stéphanie Pillonca, the film director and the "flood of emotions" we experienced when shooting alongside the small girls with Down's syndrome in "Apprendre à t'aimer"… Then there was the scene from "Innocente" for example that is literally bursting with emotions or the sequence-shot of the fire in "Le bazar de la charité"
What are your projects for the future?
I've just finished shooting a one-off for France 2 called "Mise à nu" about revenge porn. And now I'm working on a wonderful new project. For the moment it is confidential but I'd be delighted to tell you more about it next time.
What would you like to wish LiFE Magazine readers for 2021?
I wish all LiFE readers a year filled with brightness and hope!