After several successful tv series and films, including Divorce Club "by Mickal Youn and "Simply black" by Jean-Pascal Zaadi, but also "Sauver Lisa" soon on M6 and at the cinema in the film "La Scala" by Bruno Chiche. Caroline Anglade, sparkling woman, all fire all flame is today an actress recognized by the public! She confides in the readers of LiFE magazine about her future projects …
The end of the year is proving to be a busy time for you. Could you tell us more?
It has indeed been a busy year but well worth it! I really enjoyed going from one kind of role to another. It's something every actor dreams of and I love trying out new paths and new emotions.
Currently we're filming my third feature film after two fiction films earlier in the year (a Christmas comedy for TF1 and "Sauver Lisa", a miniseries for M6.
I appear in Bruno Chiche's "La Scala" alongside Pierre Arditi, Yvan Attal, Pascale Arbillot and Miou-Miou. It's a wonderful story about a classical music conductor and the transmission from father to son. It was a great experience and during the filming Anne Gravoin came in to teach me to play the violin.
In the wake of this I had the good fortune to take part in Eric Lavain's film "Plancha" which was set in Brittany. I met up with Franck Dubosc who I know well since we have played together in a number of projects. We were accompanied by a really great cast that included Guillaume de Tonquedec, Lionel Abelanski, Lambert Wilson and Jerôme Commandeur.
Then, around September time, I played in something a little different, "Belle et Sébastien : nouvelle generation" that is based on the well-known story of the friendship between a little boy and a dog. In the film I play the role of Sébastien's mother. It was filmed in the Pyrenees where the mountain landscape is simply spectacular.
What are your thoughts on diversity and more particularly women in film?
I am tempted to respond positively to the question because I believe things are moving in the right direction.
Women are speaking out, creating, proposing things… whether it's film directors, actresses, producers … our role is becoming clearer (thankfully), more and more so and for the better. It has taken time and there is a long way to go still before we reach something along the lines of equality. We're not there yet but the situation is changing.
Because I watch a lot of movies and regularly go to the cinema, I see more and more good and well-written roles for women of all ages (which is also something new). We are seeing actresses return to film stronger and more beautiful after turning fifty thanks to their determination and changes in the way the film industry considers them.
I look around and see a lot of women achieving great things they then pass on to future generations in any number of lines of work related to the cinema, even the technical crews. It is both encouraging and positive even if there is a long way to go still!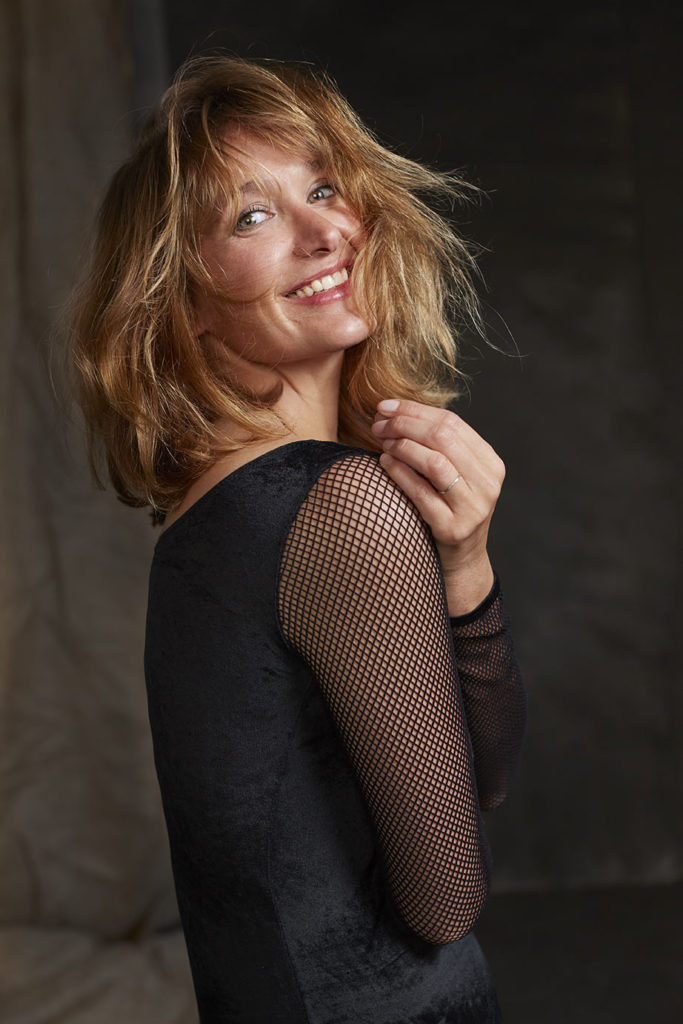 Did you use the health crisis as a time to question yourself?
The questions multiplied during the crisis because we were alone with ourselves and cut off from our social lives. Personally, the lockdown enabled me to get even closer to my family.
The lockdown period also gave me an opportunity to discover new forms of art. I had an urge to create, to express myself through words, song …
I was lucky to spend the period in our holiday home in the country and the question as to whether we wanted to leave the city definitively often came up.
But, at the end of the day, I realised I need the hustle and bustle of the big city, to be able to easily and quickly access cultural activities. In a way it was invigorating to take time out and have time to think about things but I was delighted to be able to return to the cinema, to sit outside a café, see my friends and appreciate life as a community.
On an ecological level, there was a sort of collective awareness that nature was somehow reclaiming its rights and I sincerely hope we don't lose any of the new eco-friendly habits we have adopted.
You clearly are a very busy woman who has two little kids to look after. So what is Caroline Anglade like when she gets home in the evening?
A woman who is exhausted (laughs), just like anyone else, I'd like to just return home and relax.
But no! Life goes on and at 5 or 6pm a second day begins with two kids. Fortunately my partner does his share of the work.
With a life in the fast lane and when my dreams of acting are coming true, I understand the importance of having a solid basis. My family is like a lifeline and the kids my anchor.
To take everything on can be tiring and requires a huge amount of energy but I need this balance, it helps me keep in touch with a certain reality.
You have acted in a number of series and films but also played different types of roles. What register would you say fits you the best, comedy or drama?
I got into the profession and drama classes to evacuate an excess of emotions and also because I wanted to express, transmit and unload my feelings.
At the beginning, to alleviate things, I opted for humour: when I started out on stage, comedy seemed the obvious thing. I was fairly reserved and had a number of inner feelings I didn't want people to see. Soon though I began to discover a darker side that meant I could switch roles that led to other experiences.
I don't want to be automatically associated with one particular style. There is a tendency to confine people in specific registers whereas we do what we do to switch from one to another.
One day we might want to have fun, the next day feel like getting a little more serious.
Personally, what motivates me most is surprise! I love being taken in by a script, a film director, a story, whatever the part to play.
How would you describe yourself in three words?
Spontaneous, instinctive and indecisive.
What do you wish for and what are your projects for the future?
I want to be surprised by professional encounters and opportunities and to be taken places by film directors. There is still a lot of unchartered territory out there for me to explore.
It's also up to me drop a few hints so people offer the unexpected.
And at the same time, to remain balanced, I want to continue growing up alongside my friends and family, I need them!
As for my projects, we are currently shooting an hilarious police comedy directed by Benjamin Lehrer.
I'm also promoting the miniseries "Sauver Lisa" (M6) in which I play Rose Keller, a young primary school substitute teacher.
During one such mission she meets the lovely 8-year old Lisa. Rose quickly understands Lisa is a victim of child abuse and risks dying if no-one intervenes. The social services can't do anything so she decides to kidnap the little girl. Rose is pursued by the police and the girl's mother and has no other choice but to hide at her own foster mother's house.
If you had to choose a holiday destination for this winter, where would it be?
In the sun because I didn't get much this year (laughs). I filmed a lot in places where the weather was changeable. We even had to schedule filming in line with the weather, can you imagine!
I need sun, vitamin D, and I dream of just lying on a sunbed with a good book, or just sleeping!
What would you like to wish LiFE Magazine readers for 2022?
Laughter, learning, and to get away and make the most of life.
Also, something new, changes, well-being…to feel good!