Inheriting elegance
The Baverez family hotel group owns the three remaining five-star hotels in Paris, the Raphael, Regina and Majestic Villa Hôtel-Spa.
Véronique Valcke took up the reins in 2010 to continue the family tradition and perpetuate the myth.
At 46, the managing director has both taste and character. she is also the mother of three girls and like her mother, Françoise Baverez, has a taste for challenge and hard work, refinement and elegance. Her primary focus is the values of a group that this year will be celebrating its 120th anniversary and also to defend a name and an identity that have carved out an international reputation for the welcome reserved for their guests and one-of-a-kind French elegance.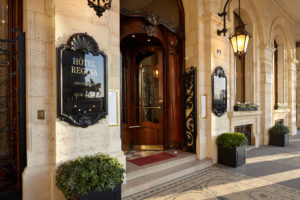 Véronique Valcke is demanding in her standards and today travels the world from the United States to China and India to promote and attract those seeking French opulence and elegance. She also understands the need to combine tradition with modernity and oversees the continual refurbishment and upgrading of the hotels to ensure they comply with all requirements of the very best international establishments.
In the Parisian luxury hotel landscape, the history of the group is unequalled. Grace Kelly, Audrey Hepburn, Serge Gainsbourg and Steve McQueen have all been frequent guests at the hotels.
Véronique Valcke and her team of 260 employees do everything to ensure each guest experiences something unforgettable, unique and chic, sustaining the tradition of a French group with over 100 years of experience.
The gallery was not found!