Even as a youngster, Chef Arnaud Faye, from Clermont-Ferrand, loved imagining the creations he would one day be preparing when he had achieved his dream of becoming top chef in a high-end establishment. At the family home, alongside his grandparents and other members of the close-knit family, he enjoyed picking blackberries, vegetables and fetching the milk from the local farm. This natural passion for preparing locally produced products was to become his calling.
Arnaud Faye entered the reputed catering school la Chaise-Dieu, in the Haute-Loire where he obtained his CAP and BEP cettificates before  going on to earn his vocational high-school diploma with flying colours. Arnaud started his career in 1999 at the Relais & Châteaux establishment the Moulin de la Gorce in La Roche­ l'Abeille, working alongside two-Michelin star chef Pierre Bertranet. He continued learning the trade in various other reputed three­-star establishments such as the Amsbourg in Baarenthal, Antoine Wesrermann's Buerehiesel and Relais Bernard Loiseau, before  being appointed at the age of 29 chef at the Espadon in the luxwious Ritz hotel in Paris. After winning his second Michelin star, Arnaud Faye entered the Mandarin Oriental in Paris as as Thierry Marx's right-hand man. The Mandarin Oriental was awarded two Michelin stars after just one year.
In 2012 he took on a new challenge to oversee the kitchens of the Auberge du Jeu de Paume, another Relais et Châteaux establishment located in the heart of the Domaine de Chantilly. The hotel's gourmet restaurant obtained its first star in 2013 and the second came the following year. In the summerof 2016 Arnaud Faye arrived at the Château de la Chèvre d'Or to manage the hotel's kitchens, notably the two-star 'La Chèvre d'Or' gourmet restaurant where he developed  a cuisine with a strong focus on the local identity, paying tribute to the authenticity of an exceptional terroir, combining creativity, outstanding local produce, perfect prepatation and remarkable seasonings and dressings.
In 2018, Arnaud Faye was elected Meilleur Ouvrier de France for his exceptional cuisine.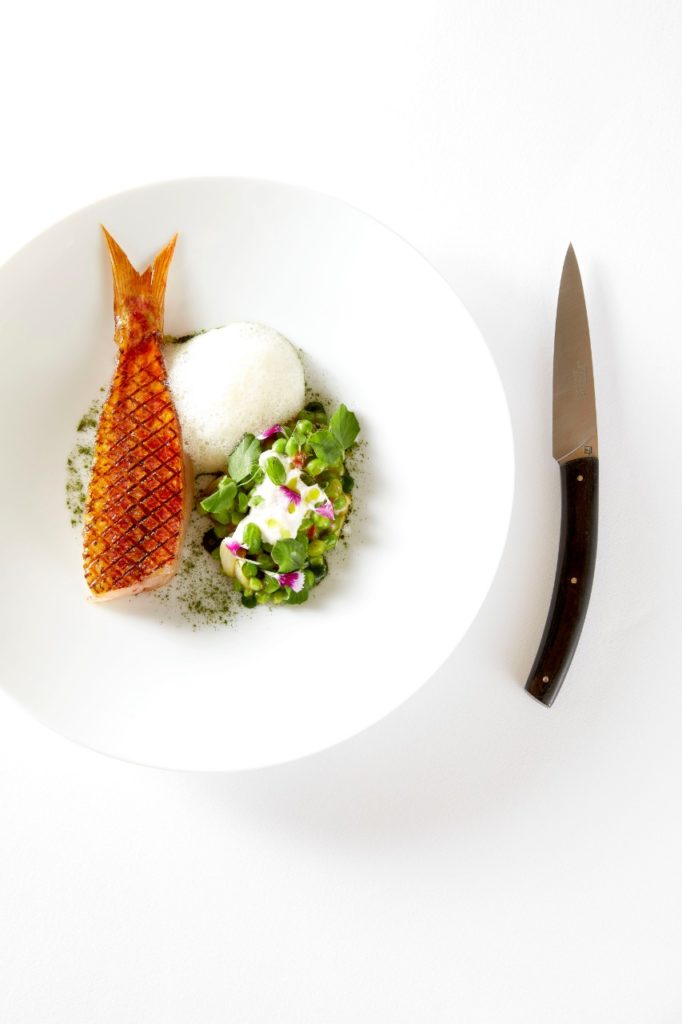 Subtlety and creativity under he Èze sun
In the heart of Èze, a charming historic village in the Alpes-Maritimes overlooking the sea, the Chef from Auvergne and "Meilleur Ouvrier de France 2018" Arnaud Faye welcomes us to the 2- Michelin star restaurant La Chèvre d'Or and opens the doors to its culinary universe … Enjoy!
Your rise to fame is really remarkable. Do you think your passion for cooking from a very young age played a key role in your success in such a demanding profession?
From a very early age I had a passion for cooking, both for the profession and also the quality of the produce. I decided to try my luck at a catering school in my native region the Auvergne and then after reading Bernard Loiseau's book "La quête des étoiles" (Burgundy Stars: A Year
in the Life of a Great French Restaurant) I decided to take up the challenge myself and go for the stars.
With its two Michelin stars, the gourmet La Chèvre d'Or restaurant is a must-come address on the Riviera. Why did you choose here to express your talent and enhance your creations?
I chose it and it chose me. It's an emblematic establishment and I had always dreamed of being part of it. At the time I had been working at the Auberge du Jeu de Paume in Chantilly for four years. I simply couldn't turn the offer down! The setting and the views also played a part in the decision-making. You have to know how to seize opportunities when they come your way and change the course of destiny!
Why is your culinary world described as "solar, mineral, marine, aromatic and vegetal"?
Solar because it is inspired by the Côte d'Azur, mlneral and marine because weare set upon a rock overlooking the sea, aromatic and vegetal because this is the basis of my cuisine. When you come to the Chèvre d'Or, you are presented with a mouthful of sun! More importantly, my creations can only be prepared using a very careful selection of produce and seafood.
If you had a signature dish. what would it be and why?
I honestly don't have one, my dishes evolve with the seasons. For example, the slow cooked shoulder of Sisteron lamb is only on the menus for a short period of time. We don't choose which dishes we prepare, we are always listening to our loyal guests and adapting to what they want to experience.
What would you say is the ideal summer dish?
At La Chèvre d'Or, hyssop smoked lobster and melon. With the vegetable nimmings we create a caramelised melon sauce to cover the raw melon giving a taste of roasted melon and fresh melon and a concentration of taste and texture.
Do you travel a lot to develope and enhance your dishes?
The work and research never ends and I get the impression my cuisine is becoming ever more refined with time and travel around the world. And yet, the current situation should be used as an opportunity to rediscover our country and its multiple local treasures.
What are your plans for the future?
Right now I'm concentrating on my work and how to please and satisfy our guests with our
creations.
These last few months have been somewhat strange. What can we wish you for the future?
We need to rediscover our former vitality after such a difficult period. I want to see my teams, my suppliers and customers enjoying life once again, in true French style!