Shemar Moor, fashion model, actor and television presenter, was born on April 20, 1970 in Oakland, California. His father was a business consultant and his a mother a mathematics teacher. The family left the United States due to the issues of interracial relationships and racism for Denmark. They then moved on to Bahrain where Shemar attended a British public school.
In 1994, having nurtured a passion for art and the theatre, Shemar Moore returned to the United States after several years in Denmark to begin his acting career by playing Malcolm Winters in the hit series The young and the Restless. His good looks and charisma meant he was soon headlining a number of series and television programs in the U.S.
In 2005, Shemar Moore began playing Derek Morgan, a super sexy compulsive behaviour specialist in a major new series called Criminal Minds. The super profiler and former delinquent went on to star in 11 seasons of the series, leading to international star status.
Following on from this success, he is currently starring in a new series that will be aired soon on TF1. The 48 year-old actor is back with S.W.A.T (Special Weapons and Tactics) in which he plays Lieutenant Daniel "Hondo" Harrelson of the American Paramilitary Intervention Brigade who trains and leads his team with one key goal in mind: to protect, serve and save lives.
On a more intimate note, Shemar Moore is on the lookout for the love of his life, someone to settle down and start a family with. He is also a strong supporter of many worthwhile causes, just like his Criminal Minds partners, such as the fight against multiple sclerosis that is personally extremely important for him. Indeed, his mother, or "SuperWoman" as he calls her, was diagnosed as having multiple sclerosis in 1999. He also founded the clothing brand "Baby girl" with all profits going to further research.
Shemar Moore is a regular guest at the Monte-Carlo Television Festival and always goes out of his way to meet up and bond with his ever faithful fans
"More than ever before we need to believe in the future"
Shemar Moore was one of the key figures to attend the 58th Monte Carlo Television Festival. Just one and a half years after leaving Criminal Minds, the actor was in Monte Carlo to present the popular series "S.W.A.T", much to the delight of LIFE Magazine readers!
Shemar Moore, you took a year out to focus on your personal life and put your career to the side. Was it a good move?
That's right. I was fortunate enough to be able to take time off for myself, to have a break. I thought long and hard about it and am proud I finally did it. After eleven years of "Criminal Minds" I needed time out to recreate a balance between career and personal life, to travel, fall in love and start a family. I have always tried to seize opportunities, to evolve. We're not talking about coincidences, but luck. I am an actor, but more than anything else, I am a human being …
Who had an influence on your decision?
I chose to move on to something different for my personal development, just as Georges Clooney did when he left ER or Denzel Washington when he left St. Elsewhere. They did a swan dive … They both decided to leave extremely popular television series to spread their wings and look further afield. Look at what they are doing today. They gave me the courage to risk it!
Then S.W.A.T came along …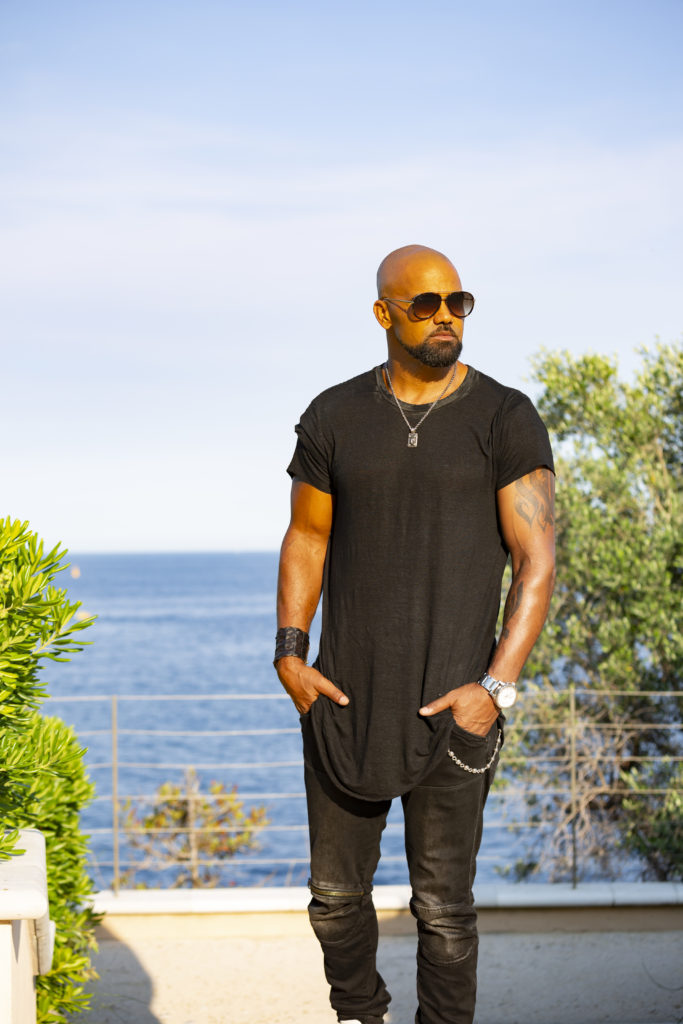 What made you decide to accept this new challenge?
It was like turning over a new page. I wanted to prove what I was up to, to be a hero. Being part of S.W.A.T was a great opportunity. Despite the pressure, I love it and give everything I have. Also, my partners are extraordinary, which makes it easier!
Tell us a little about the series can you?
It's a subtle blend of action and thrills like you've never seen on the TV before! Episode after episode you get to follow the S.W.A.T. team ("Special Weapons and Tactics"), a paramilitary police unit.
I've got an amazing role to play, I am a super hero… It's perfect! I play the boss, Daniel Hondo, and my objective is to save lives. You get to see me jump from a helicopter, climb buildings and have car and motorbike chases. You're sure to have a great time watching S.W.A.T! (laughter).
What does this fictional series mean to you?
It's an amazing opportunity, career-wise and also for me to defend my values. I am the only Afro-American in the US today to have a leading role in a series on a major public service channel. It's a great showcase, but the responsibility is immense.
What message or messages does S.W.A.T. convey?
Each episode conveys a message. In the U.S, like elsewhere in the world, fear is everywhere. Obviously the series cannot remove this fear but it does offer a break, a time to forget and think about something different.
The person I play in S.W.A.T conveys a strong message to the public, not just Blacks, but also Asians, Latinos and even Whites. I want to be seen as a messenger for the minorities.
I sincerely believe we are all born equal, whatever the colour of your skin or origins. We are all human beings with our good sides and our darker sides, but I am convinced we can all be better thanks to others. This is what I try to convey through my role. Be open-minded, listen to others!
 Do you think television is a good vector to convey a message?
It's an extremely powerful vector! And on opportunity for us, actors, to convey our values. We have an very important part to play, particularly as a person of colour.
 Do you miss comedy?
I loved doing comedy, particularly in "The Bounce Back". But when you're an actor, every minute is a comedy. (laughter). Even when I have a really serious role to play I try and add a little touch of humour.
 Do you have a mentor or someone you are fascinated by?
Oh yes! I have always been fascinated by Samuel L. Jackson. He has the ability to play and personify almost anyone and to dominate the screen.
 What can we wish you for the future?
To continue believing in my dreams and to meet the woman of my life and start a family together.
The gallery was not found!