AN ASSET OF CHARM FOR M6 Ophélie Meunier, star presenter for M6, talks to LIFE about her own totally fulfilled one!
Your career path is a little bit out of the ordinary. You are a former model and today a star presenter on the TV landscape. Could you tell a little more about your background…
Star presenter is maybe going a bit too far, but let's say that I'm working on it and from one year to the next I think I am making a name for myself. After modelling for a few years I decided to go back to school.
Travelling the world as a model made me want to become a journalist. I studied journalism at the ESJ in Paris and entered the wonderful world of television by presenting Le Petit Journal with Yann Barthès,
La Nouvelle Edition, Le Tube and then Zone Interdite. It was hard work but a great feeling to feel I was getting somewhere.
When you began presenting Zone Interdite you said it was «one of your biggest challenges». How do you feel about it today?
I am more than satisfied with what I've done and it would be a pity not to be! It's an honour to present a flagship programme on French television with subjects that spark off debates and that the public continues to appreciate. It's an extremely positive and satisfying experience.
What personal touch have you added to the programme?
From the very beginning I decided to get out and experience each documentary personally.
Zone Interdite is about encountering the public, so I naturally wanted to be directly involved! I also narrate each documentary so my voice in a way guides the viewers through them. on a day to day basis, I make suggestions and contribute ideas as a 30 years old woman.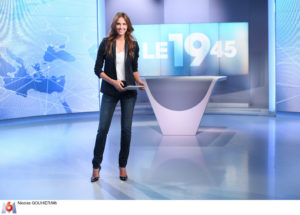 This is your third season of «Zone Interdite» on M6. What are you expecting it to be like?
The first year was a kind of discovery tour, the second, settling in. This one, I hope, will reflect a sort of maturity. I'd like to continue surprising the public, and surprising myself at the same time!
You are also the stand in for the evening news. What memories do you have of your first news broadcast?
My first evening news on M6 was unforgettable. It was on July 18, just four days after the Nice terrorist attack and the programme was devoted almost entirely to the terrible event. It's hard to describe my emotions at the time with what was happening in France and it being my first news bulletin on M6.
What memory has struck you most during your time on air?
It's difficult to choose just one, but probably I'd say the people I've met. For each documentary I go out to meet ordinary French people who have had experienced something out of the ordinary.
I learn from them and I think this had made me even more open-minded.
 How do you maintain your relations with the public?
I'm still fairly young, so with my cell phone and the social media! I post information about my experiences and try and reply to their questions whenever I can.
Then, when I meet them in the streets, I listen to what they have to say and they seem to appreciate that.
Is it difficult to find a good work-life balance when you are a journalist?
No. Whatever your job, I think there is a balance that can be found with your partner, and also with yourself.
 What are your passions?
I am passionate about my job. And I say it because I am really lucky.
Following the manufacture of the documentary we broadcast every two weeks is extremely enriching, I love writing work, and filming is always made in a great atmosphere with the team, whatever the subject, lighter or more poignant.
On the leisure side, I have done a lot of child dance and this remains one of my great passions, I subscribe to the Opera of Paris. And finally, the animals for which I have a particular sensitivity.
What projects do you have?
My main project is to continue giving everything I have to what I do!
What can we wish you for the future? To be able to present, for as long as possible, a programme that is as enriching, fulfilling and fascinating as everything I have experienced during the past six years!
At the end of this year, what would be the best place to escape?
No matter where I go sincerly if I am with the people I love! But I have to admit that I have a smallweakness for sunny destinations in the middle of winter.