Philippine Leroy-Beaulieu is no longer a stranger to fans of French series,
or even the big screen. However, the series "Emily In Paris" strengthened its notoriety
in the world of cinema. Meeting with a solar and generous woman.
How did you feel in such a difficult period and with the crisis the cultural sector has been through?
I am both patient and observant. What we have been through led to the emergence of fear in all its forms. There is a lot to be said about that and the ensuing withdrawal symptoms, suspicion and even an inability to think. However, I see it as a challenge that has strengthened my will to live. We were living in a world that was based on what we had acquired and had forgotten that the most important things, those that keep us alive, are things that cannot be bought. The simplest and most delicate. Then when we were separated from others, physically – because communication can only be physical, not via a screen – that is when we realised how much this absence emptied us of our energy. When we could no longer work together, and this is particularly true for people from the events sector for whom the notion of 'troupe' is extremely important, we were able to reconsider the reasons behind our choice of profession. The sharing of emotions both during their production and their release. What is so sad about this period was the obligation to undo the ties that held us together. The beauty of it all is that the sadness this created strengthens these ties in the face of all opposition. Life, with a capital L, reigns supreme!
Are there things you have changed or improved in your everyday life, or new priorities you have given yourself?
Deep down, yes. Apart from doing even more physical exercise to satisfy my body, I would say I am learning to pay more attention to my relationships with others. Each day I think about the courage needed to live and the strength it takes. It's as if this period helped me understand all the things within me that I could improve to create a more generous link with the world. It's something I work on every day because honestly I have my work cut out! Otherwise, I haven't really changed much in my routine. I eat healthy and have always exercised. I did buy a guitar and really like learning to play an instrument!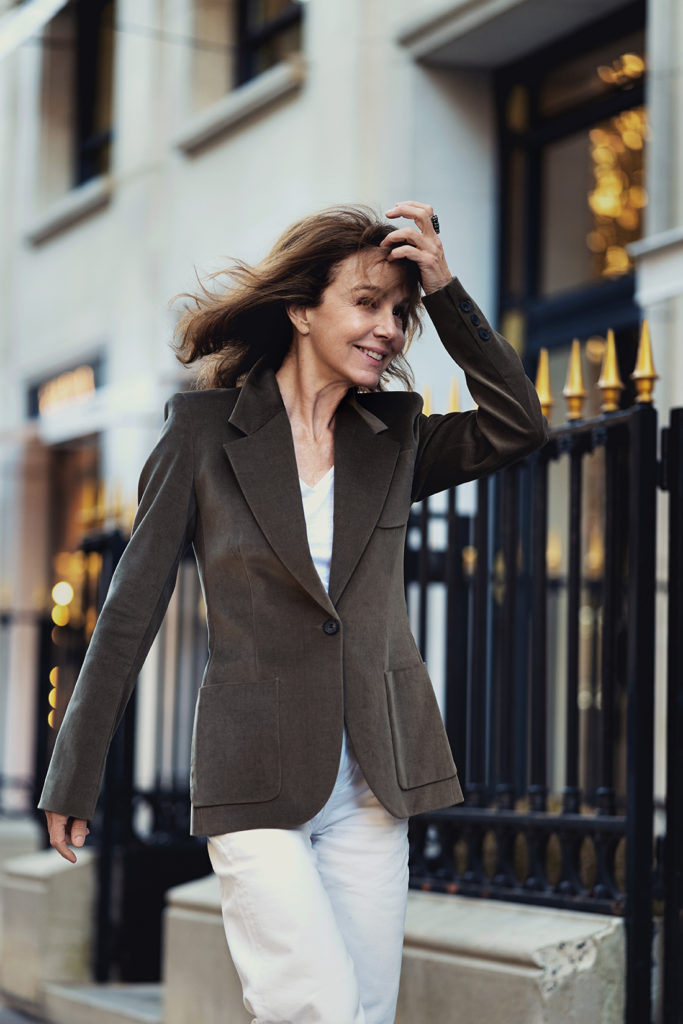 We were delighted to see you in the Netflix series Emily in Paris, how did this come to light?
For me the project began quite normally, with a casting! Juliette Ménager was looking for someone to play Sylvie for Darren Star. She called one day to say: there's something you could do but you're too old. But you could play the part! Basically, the role was intended for a 35-year old. I read the script and said to myself "I know that woman… really well!". At the casting I said: let's give it a go! I'm maybe too old but there's something of my mother in her, something I know, a severity that hides a wound! So she presented me to Darren Star and I was surprised to learn that for him also it was clearly obvious, even if he did take him two months before officially hiring me!
What can you tell us about season 2 of Emily in Paris, who's coming soon on Netflix ?
Not a lot unfortunately, as I'm sure you understand! (laughs)
What did you learn from playing Sylvie, a woman with many sides to her personality, not that nice and rather strict? Does this correspond to who you are in real life? Or is it just a way to reveal the underside of each and every one?
It's the flaw that is beautiful. We all have a shell to hide our weaknesses. In Sylvie's case, the world is changing and what she represents is in danger, her age is a weakness, the life she has chosen has left her on her own yet determined. She proceeds as best she can. I have always been intrigued by this: the hidden flaw. I quickly understood that people who are difficult to get along with are in fact extremely fragile. I also love playing them because it's time to stop judging people at first glance. For me, the watchword for the character was "the most unfriendly people are those who most need love". It's easy to say but hard to do, to give them the love they need. But it's the only way to defuse the bomb that is ready to explode inside them. Sometimes it works, sometimes it doesn't. We are all human and we all have our weaknesses. It's all about knowing it and trying to proceed in the right direction. Sylvie is teaching me to see what within me and within others is hidden. It's an amazing path to follow!
Was comedy an obvious choice for you or would you have preferred more tragic roles?
I like comedy because I can speak about serious things without giving grief. In real life I'm a bit of a clown. I'm also a real pain in the back. I can really give grief while not taking anything seriously. I think it's because of my Italian background. Italian-style self-mockery is what I miss most in Paris. You can say something, but you also need to understand you don't know anything, that sometimes you talk just for the sake of talking or to assert a relatively vain identity…
Your roots are in Italy where the family is also something very important. Have you ever imagined going back there to live?
My family roots are French but I spent the first eleven years of my life in Rome where my father and three brothers and sisters still live. I might go back there to die!
What projects do you have for the future and where are you planning on going to see the year out and recharge your batteries?
My immediate projects include a role in The Crown, which I am really keen to do and take as an honour!!! And apart from that, I'm waiting to be offered THE role that could take me into another dimension. For the moment I'm receiving stuff for roles that either clearly resemble Sylvie in Emily in Paris or for extremely dark-sided characters which is something I really don't want to do!
As for Christmas, I haven't thought about it yet. My vacations are often last-minute improvisations! I might go to my much-loved Italy! That's what I feel like right now, some sweet Italian laughter!
What 3 words best describe you?
Stubborn, courageous, too lazy…
What would you like to wish readers of LiFE Magazine?
I sincerely hope LiFE Magazine readers take great pleasure and heart from the rebuilding that lies ahead. As the saying goes, a crisis is an opportunity. And this one is so vast that we have a one-of-a-kind opportunity to create a world of peace together. I am convinced that if everyone believes this, then it is possible.