53 years of TV is pretty long … You are the only TV presenter in the world to have lasted so long. How do you explain this?
I really don't know! I entered the world of television when I was 21. I came for a short training period in the sports department. They needed a rookie to replace someone in front of the cameras and there I was. And there I still am 53 years later. Everything went really fast back then. I wanted to be doctor like my father, it was my calling. I still regret not doing this because I could have looked after the sick, but before passing away, my father said to one of his patients that his son Michel had become a doctor of souls.
I started my career in the 60s, at the same time as a lot of big names. Johnny, Cloclo, BB, Delon, Belmondo… we sort of grew up together. Then another generation of stars arrived, some of whom were quite young. Anthony Delon was 8, Bruel 16, Emmanuel Valls 3, Sarkozy 10… Obviously this creates ties and leads to friendships. Now I am into my third generation with people like Xavier Dolan, Louane, Julien Doré, Kendji Girac, Vianney, Cyril Hanouna… I would never have thought that when the adventure began in 1964 it would continue into 2016.
More importantly than that, I grew up with three different generations of people. It's a bit like being a member of the family. We developed a close of relationship. I would say I know France better than most politicians. I was a sports journalist in the 70s, then came Champs-Elysées and now Vivement Dimanche.
People never call me Mister Drucker, simply Michel.
I entered the world of television when I was 21 […] And there I still am 53 years later. Everything went really fast back then.
Television has changed a lot in 50 years. What is your opinion of this evolution?
Even if everything is different, I wouldn't say it was "better in the past", that's for veterans. But yes, times have changed. And television has also changed. When I started out, there was only one channel in black and white. Today there are over 200 in color, many which are DTT networks. TV ratings now exist and brought with them commercials, a battle of the channels… everything has changed. Long careers are no longer possible. Everything is shorter. Careers like Patrick Bruel, Francis Cabrel, Laurent Voulzy, Jean-Jacques Goldman… not to mention Charles Aznavour, Belmondo and Catherine Deneuve can't happen anymore. When I started out, I was terrified. They let me gradually learn the job, live on TV during several years. Today you must be ready to perform perfectly immediately.
These changes have also radically changed the relations within the world of television. Loyalty, gratitude and acknowledgment are words that have lost some of their meaning. But I don't want to get all nostalgic because I am still part of the family.
Copyright photos : Michel Drucker
At 74 you are getting on stage with your show "Alone…with you". What made you decide to take up the challenge?
I wanted to test myself, to go to the other side of the looking glass. To go from room to stage. To know if, at my age, I could still feel afraid, to start out from scratch. To risk failing and being rejected. I wanted to know what all the artists I have presented over the years felt. I needed to prove to myself I could start a third life, a third career, after the TV and the radio. I decided that if it didn't work, at least I would know what it was like to be alone on stage in front of the public.
What do you want to pass on to your public with this fairly intimate show?
I wanted to present a sort of family album since my memories are the same as millions of people. It's also a duty of remembrance. I wanted to thank the public for their lasting loyalty. If I am still around, it's because of them. I also wanted to do something intimate, as if they were in my living room or me in theirs.
How did you feel on the opening night; Stage fright or not?
Worse. It was in Rennes, on January 29. I was petrified; my heart was beating out of control. I said to myself "what are you doing here? Let's hope the lights don't work!" I was terrified I would forget my words, that I lose track of the stories, that I lose my voice…
I worked really hard on "Alone … with you!" The people who have seen me during the past two months at the "Bouffes Parisiens" think I am improvising whereas in fact I wrote every word myself.
Stress and stage fright are part of the job. Every artist suffers from it, whether little known or more famous. Johnny Hallyday or Céline Dion both look different 15 minutes before getting on stage. Maria Callas was worried about hitting a wrong note!
But as Louis Jouvet said, "you'll see, stage fright and talent go hand in hand".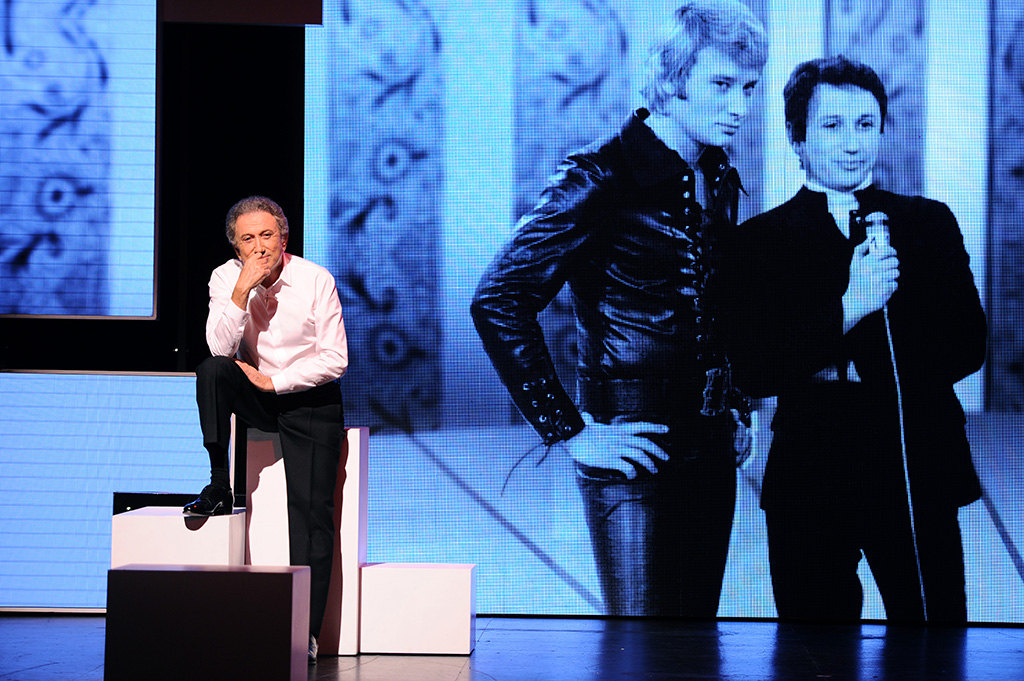 Your one man show goes back over your career. What's the best anecdote you've got to tell?
One I tell during the show. One day I am interviewing Paul Hogan, a sort of Australian Indiana Jones. He was so tired because of jetlag that I didn't even have time to finish my first question. He fell fast asleep … I show the documentary during the show and the public laughs because I don't stop the interview. I continue asking the questions and answering them myself because he is fast asleep. He wakes up after 20 minutes, says thank you and leaves.
You have often been criticized because of your kindness. But isn't this one of the reasons you have been so successful?
There is no shame in being kind, particularly in such a cruel and sometimes cynical world. Jeering isn't for me. I love mockery and self-mockery, but I'm not too keen on verbal aggression. I'm not someone who uses gratuitous nastiness. There is always a good way to say things. I think that if I said to a writer or singer their book or CD was rubbish, my mother would descend from up there and slap me in the face! Artists give everything they have and sometimes spend years working on a project. Who am I to destroy all their hard work with one stupid sentence?
At 74, how do you see your life? Is Michel Drucker fully satisfied?
I don't know if I am fully satisfied, but when I worry, I take a step back and tell myself I have no reason to complain. My family has stayed together, which is not easy these days. I've never done drugs, I do sport, and I've had a calm life in general, even if I am not necessarily calm myself. I have a handful of truly good friends who have known me for years. I have never betrayed my principles; I am and always have been the same. My parents and my elder brother Jean, even if they are no longer of this world, continue to influence me.
At 17, without any diploma, I would never have imagined it was possible. Even today I continue to wonder how it happened. Ok, I work day and night. I have read every book, seen every film and listened to every CD I talk about during my programs. But I guess I am also pretty lucky.
Charles Aznavour said to me one day: "you've been on the screen for 50 years now, you'll still be around in another 10 or 15 years". This was reassuring because I have always wanted to do something that lasts and for that I have always taken my health seriously to be strong and healthy to survive all the ordeals that face us. I am quite often tired because I work 15 hours a day. But tiredness due to success is less trying than tiredness due to a failure or unemployment.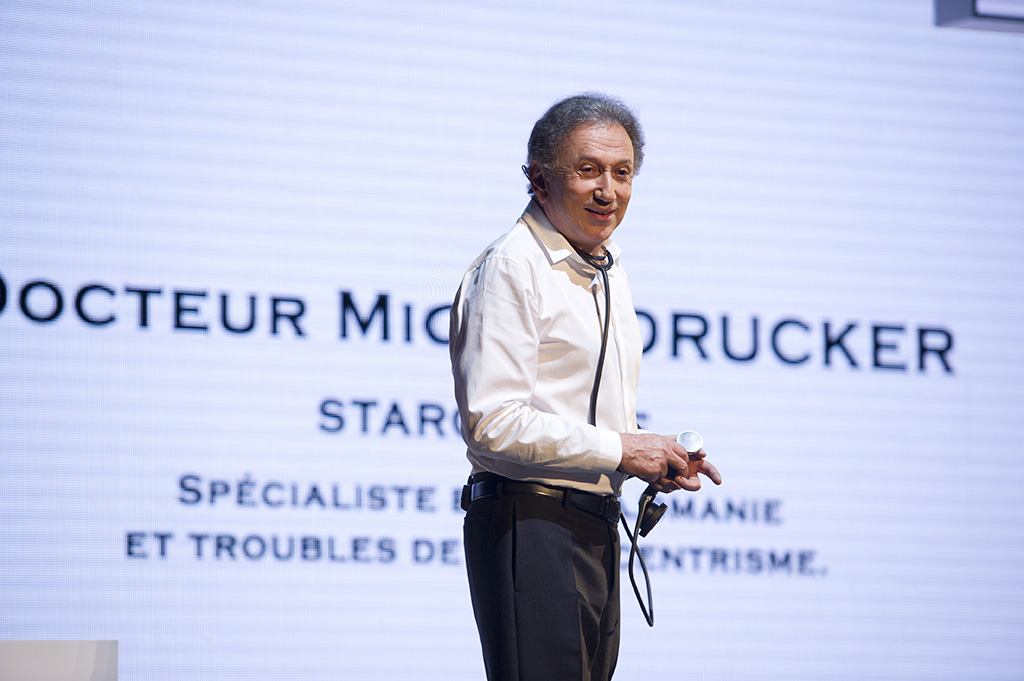 Any projects for the future? Another show? singing?
If you want a scoop then yes, I am going to include one or two songs into my show. Not very long ago I sang a song by Jean Ferrat "Nul ne guérit de son enfance" accompanied by an orchestra. After rehearsing a fair bit I asked Patrick Bruel, who was with me in the studio, what he thought and he said "Do it!" So I am going to include this lovely song when I talk about my family and my childhood.
And, my next book will be about aging, something that is omnipresent and a subject everyone is talking about more and more. Today you have to be young, do young and think young … A culture of youth and anti-age racism abound.
De Gaulle once said "Old age is a shipwreck". I'm not at that point yet but I can imagine it. Except that being 80 today is not like being 80 twenty years ago. When my parents turned 80, I thought they were really old people… In five years time I will be 80 and find it hard to believe.
MICHEL DRUCKER
Journalist, TV Animator, Actor
www.micheldrucker.fr
The gallery was not found!