You've had an incredible career and have become a leading figure on the French music scene. Are you proud of your standing?
Proud is a big word. For me, recognition is not a quest. I have worked very hard and given a lot to my fans and I am grateful for everything they have given back in return over the years and also for letting me continue to be who I really am.
What is your fondest memory from the 20 years of your singing career?
It's never easy to choose just one when your life is as intense as mine has been. What I do has enabled me to travel the word, meet all sorts of people, to give and to receive love, whatever the differences. To sing Avé Maria on my knees in front of a group of Muslims and to feel connected is a wonderful feeling, but what moves me most is not one particular memory, rather the loving and loyalty I have with others.
You are back as a member of the jury for the 4th time in a row on France Has An Incredible Talent on M6. What do you get out of this experience ?
A whole range of emotions ! Surprise, delight, hypersensitivity and many others thangs ! As a member of the jury I can reveal a lot about myself : my humour, my retort… I have also learned to take a step back and let the other members of the jury, who I love, express themselves and also i think I add to the general balance of the show because together we seem to create a great team!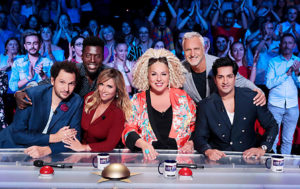 Have you been completely taken in by one talent in paticular?
Yes, quite a number in fact. It's difficult not to be impressed by some of the candidates. Even if some oh them who didn't make the finals stood out from the others, I try and keep in touch with those who impressed me the most and I am delighted they are succeeding in life.
You're a WW brand ambassador, the new Weight Wathers programme, and you share your progress with your faithful followers. Why is it important for you to give yout time to this issue?
Because WW was a real turning point in my life ; following years of cortisone treatment and struggling to stabilise my own weight, I understood a few essential things and regained confidence in myself. Any woman you speak to who follows the programme will tell you about her victories ans progress ! I don't need to be their ambassador to talk about it. I couldn't let my image be used if I wasn't convinced by it. We're not talking here about snake oil or something like that, we're teaching women to discover themselves and to learn to love themselves all over again. The encounters with our subcribers and coaches are great times of sharing and solidarity. Together, we can do it !
You reveal some of your tips in your second book called Mes recettes bonheur (My recipes for happiness) that you wrote in partnership with the dietetic brand. Is cooking one of your passions in life ?
I would say that cooking is part of my life, part of who I am in a way. Food, for me, is a form of love and sharing and in both my books I wanted to show it is possible to enjoy eating without feeling guilty or constantly having to worry about your line.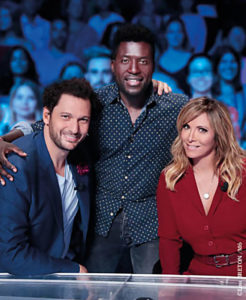 For over six years you have been fighting a serious pathology that affects your eyes. How has this changed your outlook on life and life in general ?
It has changed almost everything : my vision, my priorities, my philosophy… I live things to he full. I discovered in me a strength I didn't know I had. I don't feel as though I'm a victim, even if everything isn't hunky-dory. I feel like proving something to show others that nothing is impossible. My smile is my greatest asset ! I've started talking at conferences on positive thinking and mental strength. I'm also writhing a book about it.
Have any of your three children inherited your artistic talent?
I think all three have got something but it's too soon to tell…
What can you tell us about the new album you're currently working on?
It's very different from the others which is why it's taken so long to write… it comes with a strong message about our consciences, the goal of our existence, the light and dark that accompanies our lives.
What other projects do you have for the coming year ?
The year is already pretty busy with the new album then the promotional tour that will follow. I have a new TV programme for the sping, quite a lot of time devoted to well-being and cooking. I need to finish writing my latest book, I've got a number of concerts scheduled abroad, and so on.
What would you like to wish LiFE readers for the coming year?
To enjoy every moment of life, to make the most of everything, to take each of life's little pleasures positively, this is what being alive is all about !