Camille Combal is someone who needs no introducing. He has been part of the TV scene for over 15 years now and has made a name for himself as one of television's greats. Here he talks with LiFE magazine.
Encounter with a colourful presenter!
How are you feeling after such traumatic times and a period that had such a negative impact on the world of culture in general?
It's true the period was extremely complicated considering Lionel Messi and Sergio Ramos joined PSG…. But it's better now, I've got over it…
More seriously though I am just raring to go. How could it be otherwise!!! We are delighted to be able to get back to business and to be able to do my job which is all about entertaining people…
Are there things you have changed or improved?
I've become a bit of a masterchef! Before I didn't know how to prepare anything. Following the lockdown you can now ask me for anything … verrines, gougère, anything! Even Cyril Lignac offered me a job in his restaurant as assistant chef.
New priorities in life? I've kept the same ones as before but strengthened them… Family, friends and work are vital for me. I hope I can be even more present for those I love and do my utmost at work to entertain those who watch us. I really am very lucky to be able to do what I do so I work hard to not deceive the viewers who made it possible. Above all, I make the most of each day as It comes!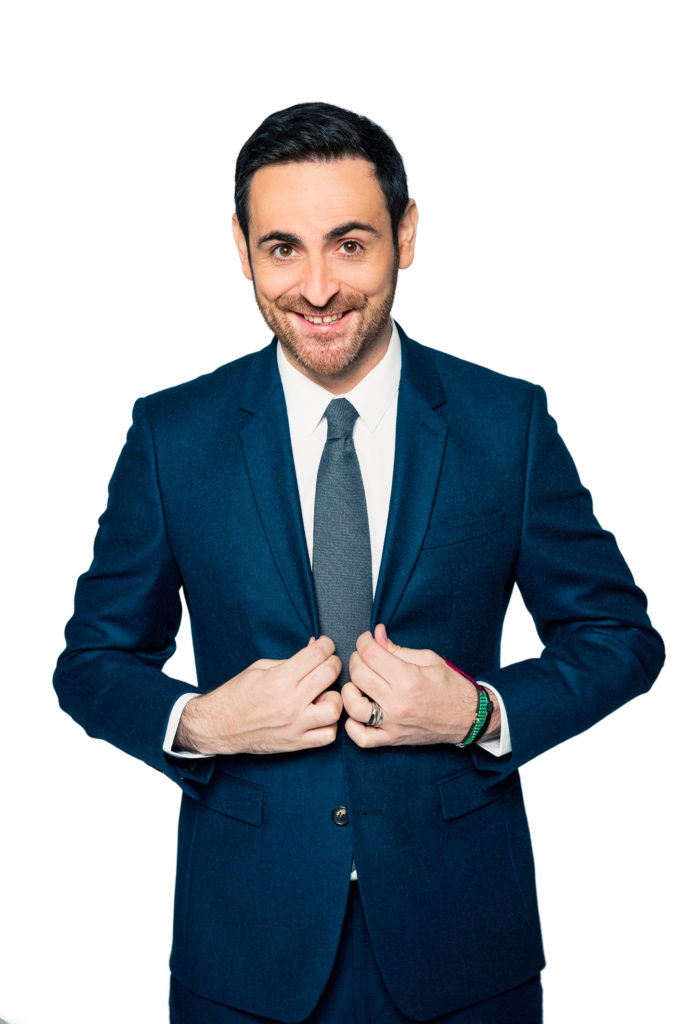 On TF1 you present Dancing with the Stars, Family Feud, Who wants to be a Millionaire, Mask Singer… How do you manage all these different activities?
I'm really not someone who is very organised so I take on the projects one after the other and try not to turn up at the wrong recording studio when I leave home.
Could you tell us a bit more about Une famille en Or (Family Feud) that Is a big hit on TF1? Who invited you to update and present this programme?
TF1 proposed I take on "Une famille en Or" to replace "Demain nous appartient" that was on stand-by because of Covid and I immediately accepted because I just love the concept. The programme was completely updated and corresponds to who I am. To play with families and have fun asking questions about everyday life makes me feel as If it is a Sunday at home with the family… I just love playing with such great families and even have the impression I'm not working! It's broadcast every Tuesday evening just after Koh Lanta and the ratings are really good.
Apparently you're a big fan of Koh Lanta! Do you feel up to experiencing the adventure?
After 9 pm on Tuesday, there's no point talking to me… I put on my vest, my swimming trunks, bandana, arm bands and I'm off to join Koh Lanta.
Try it? No way! Sleep in the sand, eat 20 grams of rice once every three days and have to perform Olympic events .. give me a break. I love watching them but I'm not ready to take it any further!
Strategist or athlete?
Have you seen my body? I think you have your answer … (laughter)
When we see you we want to be best friends! (laughter) Is your good humour something you have worked on or is it just you?
That's very kind of you … I appreciate it. The only thing I know how to do is to be me. I am exactly the same with my friends on a Saturday night as I am on the television. I am really happy If I entertain people but to be perfectly honest I'm not someone who is always joking about things.
What projects do you have for the future and where are you planning on going at the end of the year?
We are six months away from the presidential elections and I am beginning to wonder whether … Do I go for it or not … (laughter)
Otherwise I'll be spending the end of year festivities with my family and friends in the south. If you haven't planned anything you're more than welcome.
If you hadn't become a television presenter, what would you have liked to be?
I come from Orres and I would probably have been a ski instructor or opened a sports shop like a lot of my mates. And I think I would have loved it also.
On the other hand, that would mean I would still be living with my parents and my mum would choose what clothes I wear each morning … That's another kettle of fish!
You come from the south which goes to show people from the south can adapt to life in the big city?!
(laughter) My heart is still down south but I am really happy in Paris. Ok, you always need to have a mackintosh around your waist in case it rains…
But, to go for a swim and hear the seagulls is more complicated. Whenever I can I get on the train and three hours later I'm in Goudes where I can do my belly-flops from the rocks.
What would you like to wish readers of LiFE magazine for the end of the year?
Simply to be happy and kind, remember that Father Christmas is coming by soon. Get together with those who count most, family, friends, and enjoy their company. Ask them if they need something, some help or whatever… After all, that's the most Important thing, to help one another.