Woman of character, committed to her territory, Provence, Martine Vassal, president of the Aix-Marseille-Provence Metropolis and of the Bouches-du-Rhône Department, does not forget that she is a woman of modern times. !
Combative but always optimistic, this Wonder Woman delivers herself in all simplicity to the readers of LiFE …
You are someone who is extremely committed to Provence in general. What does it take to deal with your daily business?
Even when I was young, my parents and my teachers realised I was a determined person and this determination has become even stronger over the years and even more so when I became politically active.
I was re-elected to run the Metropole and the department and my determination remains intact to act for the well-being of the inhabitants and the territory.
Another deeply ingrained trait is my desire to bring together and listen to what others have to say.
It's again something I do every day, with the family or when in parliament.
What are your thoughts on the position of women in society today? You are a good example of feminine leadership but unfortunately such examples are far and few between …
That's a vast subject and very much a pressing issue … It would take pages to deal with in full …
Progress has been made in terms of diversity and equality.
But, the persistent violence women are victims of, the gender wage gap, access to managerial positions, the level of job insecurity they are faced with all suggest the battle is not won and one I, as a citizen and politician, need to continue fighting.
Also, I often wonder whether there is a difference in the exercise of power between a man and a woman?
Empathy, caring and collective work are qualities that are often associated with women … and also a capacity to stay on course and break down existing conventions. Just take Simone Veil for example who worked for a whole generation of women!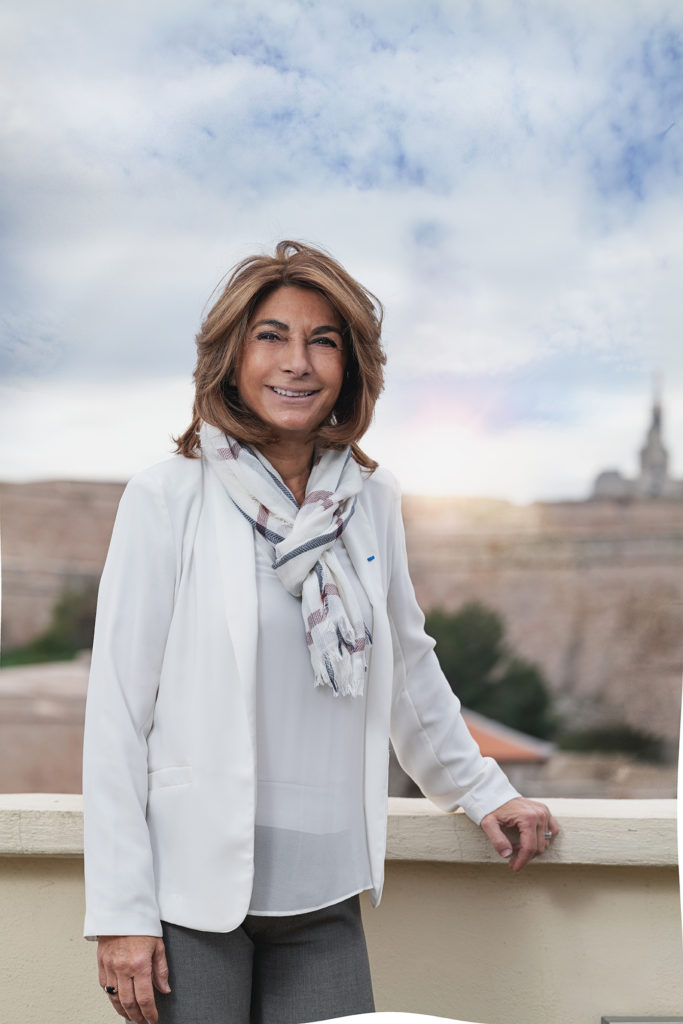 Is it not complicated to balance your public and political obligations and your personal obligations? What motives you?
I am 59, I have two children and two grandchildren… My family is for me a form of stability and strength. Family is one of the values handed down to me by my parents. I preserve times spent with my family despite being extremely busy and I try to protect my family from the unpleasant surprises a public figure may have to deal with.
To reconcile the two is a challenge but my parents gave me my taste for work and a love of the family. They often explained you need to know where you want to go and always keep your mind on your goal … This is precisely what I do.
Let's talk travel now! To recharge your batteries is it the sea or the mountains? Sport or relaxing?
There's nothing I appreciate more than the mountains to revitalise myself. My dream is to fly off to Canada with its huge open spaces and experience something very different.
I love sport and need it to remain focused. I make the most of any free time I have in my routine to go for walks and ride my bike. Cycling is my favourite sport. I also tried cross-fit not long ago which is pretty physical and helps you relax. At the same time, I must admit I do appreciate just chilling out with friends now and again!
If you were a destination, what would it be and why?
That I can answer without any hesitation. Because of my background, of where I was born, am based and love, in other words Marseille, and because of my political ambitions that are to make our territory a Euro-Mediterranean metropole worthy of the name, the Mediterranean is the destination that resembles me most.
I've heard you are an excellent cook, what is your favourite family meal?
It's true, I love cooking. My children think I improvise a little too much but my friends love what I prepare for them!
My favourite dish is bouillabaisse and generally any oven-cooked fish dish. Recently I started trying out Armenian specialities which makes me think of my mother, and I think she would be proud of the results even if they are not up to her standards.
If you had to define yourself as a sweet treat, what would it be?
A slightly sour, crusty yet spongy dessert!
How would you describe yourself? An optimist, idealist or realist?
I am a realistic optimist. Realistic because I need to be in touch with reality to act effectively. I graduated from the Marseille school of business then managed the family textile company for around 15 years which employed 240 people, so you can understand that reality and pragmatism are like my trademarks!
I am also an optimist because after everything we have just been through, optimism has become a necessity.
What else would you like to tell us that we don't already know! (laughter)
There is still a lot to be said, but let's use that as an opportunity to see each other again and meet up again with your readers …
What can we wish you for 2022?
I hope next year will be my best ally … to make the most of my family and achieve my objectives in line with my political mandates.
What would you like to wish readers of LiFE Magazine as the year draws to an end?
Fortunately, this end of year period is very different from last year when all hope was on a return to normalcy. Now, I dare to believe the worst is over. Even if not everything is as it should be, we need to remain cautious, for ourselves and our families, but we are moving in the right direction, things are on the up. So to readers of LiFE Magazine, their families and friends, I wish them every possible happiness. That the festive period, a time when things start up again, is a time of sharing and hope. I wish them peace, health and success. I also wish, for one and all, a year of serenity and responsibility.