Writer, TV presenter and host for a number of programmes on TF1 and now actress, the zesty Alessandra proves she has more than one string to her bow!
Encounter with a vibrant "Super girl" who tells all to LiFE magazine.
2022 is something of an eye-opener with you starring in Stéphanie Pillonca's film Handi-Gang on TF1. What was it about the scenario that attracted you so much?
First of all it was the filmmaker! She can be really convincing! Then there was the encounter with Théo Curin who plays my son in the film. It all just seemed so right!
You play a single mum who has to bring up her handicapped son. Is this a way of denouncing the unfairness and lack of consideration handicapped people are subjected to?
Quite, it's a good way to underline the problem of inaccessibility! But the film isn't a sad film, on the contrary, it puts disability in an optimistic light, even if a lot remains to be done for accessibility! The mother I play also has an adolescent to educate, this is another of the main themes to the film.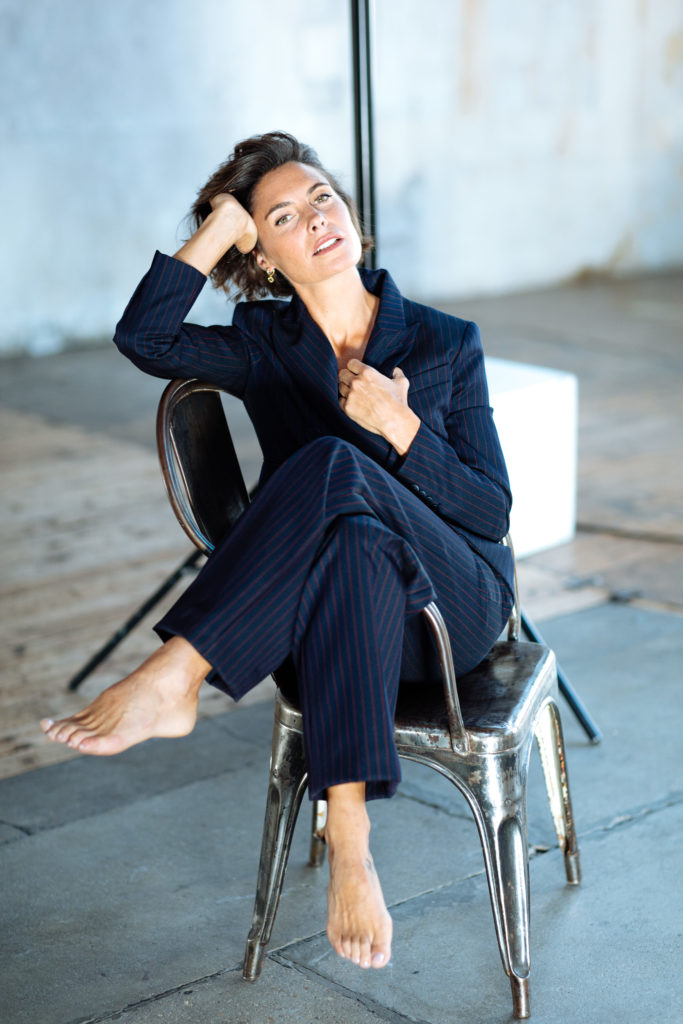 Would we be right in thinking this could be the beginning of a new career, or calling?
Let's just say I've had a taste of the adrenaline and it will be hard not to want more! But I also love writing so why not use me as the theme of the next film!
What about a rom-com?
That would be just brilliant! I love romantic comedies and love is a limitless theme to work on!
Is there one programme you would like to host more than any other? Won't we be seeing you heading a totally new programme in 2022?
I've been in the profession for 20 years now and I've been lucky enough to host a number of wonderful programmes and the idea of trying something new really does appeal to me.
How do you manage to balance up your passions and professional obligations?
When you love what you do, the notion of obligation doesn't really mean much. This is why, in my book "Fuck Cinderella" (published by Robert Laffont) I try and push people to live their dreams, to make choices, because this is what defines who we are. If people don't consider you a little mad when you talk about your projects or desires, it's because they are not ambitious enough! I've always been thought of as a little bonkers … and I'm OK with that!
You are a bit rock 'n' roll nonetheless aren't you? You give the impression of always doing what you want without worrying about what others may think!
Exactly, but it took me years to learn to free myself. It takes time, but it's the only way to live life freely and to the full which is a motto that perfectly sums up who I am today. And it's something everyone can learn to do!
Summer's not far off, let's talk travel! So, to revitalise yourself what is it, the sea or the mountains, sport or relaxation?
I'm really fortunate to live in a little corner of paradise in the south of France so I don't need to go any farther. There's the mountains, the sea and some great roads for motorcycling. What else?
If you were a destination, where would it be and why?
I've been learning to fly these past few months so let's just say that France seen from the air is simply magical. I love the country I was born in. We are really lucky to have so many beautiful and varied landscapes.
What do you dream of?
Flying! A dream come true. I worked hard on it and am delighted to be able to now fly.
What projects do you have for the future?
I only talk about that when I'm sure it's going to happen … Right now I'm working a lot in the shadows but it's coming soon … I promise!
What would you like to wish readers of LiFE magazine?
Self-fulfilment. I've divorced twice, and it hasn't always been easy. My professional life is extremely rewarding but it can be difficult. Never let go, follow your dreams despite the obstacles, it's worth it. Everyone can do this. Be happy …
Life is so short and so beautiful.