What motivated you to recently publish a book of recipes?
To explain a bit about my background and the path I have taken using my pastries and to show that everything is possible despite life's trials and obstacles or health issues and basically give hope to those who doubt. It also gave me a feeling of doing something useful for society.
Could you talk more about your Diorama dessert you created especially for the Dior fashion house?
The Vanilla Diorama, it has a round shape like pastries from the 50's, a velvet aspect for his childhood home in Granville in Normandy that he loved so much and his fist fashion sketches modelled in 3D for the signature. What better way to pay tribute to one of the world's most iconic fashion designers, Christian Dior. I would like to sincerely thank the Dior fashion house for placing their trust in me for this exceptional project that concerns one of France's greatest ever fashion designers.To create Christian Dior's dessert from a few lines he wrote to describe his dream cake was a real honour for me, one of my most memorable experiences ever! This fantastic project was packed with emotions and magical instances and also encounters with amazing people.
How did it come about?
Following an encounter with a remarkable man, a combination of sincerity, humility and simplicity. In a word, an unforgettable encounter.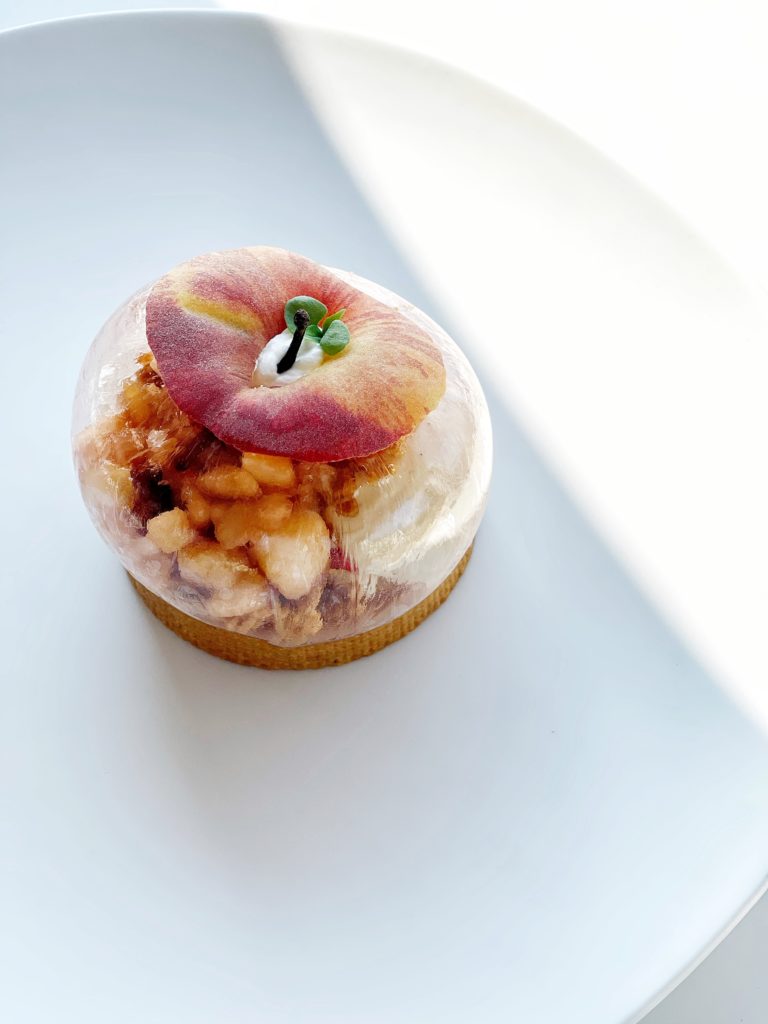 Who were your role models? Which chef or chefs most inspired you?
My models are quite simply outstanding chefs in their own right! Pierre Foucher, Lilian Bonnefoi, Olivier Bajard and of course Christophe Michalak. Christophe Michalak was an enormous source of inspiration and when I was working at the Plaza, he was always there to encourage and defend us.
Could you talk a little about your background?
I come from the Vosges region. I have been the head pastry chef at the Château de la Chèvre d'Or for the past 12 years. I began my career working in various prestigious establishments: the Hostellerie des Bas Rupts with Michel Philippe, Marc Verrat in Annecy and Megève, L'Arnsbourg with Jean-Georges Klein, the Louis XV with Alain Ducasse in Monaco and the Plaza Athénée in Paris alongside the famous Christophe Michalak. Over the years I competed in a number of competitions and received numerous distinctions including a third place at the European Championships, I was vice-champion of Europe and received the European cup in 2007. I was also selected twice for the World Pastry Cup, once as substitute for the French team. In 2021 I founded my company Julien Dugourd Pâtisserie and began a one-of-a-kind collaboration with the Christian Dior fashion house.
This led to the creation of the dessert Christian Dior both imagined and dreamed of, the Vanilla Diorama.
How would you describe your gourmet world?
I would say simple, light, refined and graphic.
What would you say is the not-to-be-missed summer dessert?
Quite simply a lightly sugared tart with seasonal fruit.
Where do you get your inspiration from to enhance and enrich your creations?
I get my inspiration from nature, from architecture and also art, things that interest and attract me …
If you had to define yourself as a sweet treat, what would it be?
A cream puff with loads of fruit!
If you hadn't become a pastry chef, what would you have been?
Younger, I wanted to be a rally driver. I trained a lot but best not talk about it here!
What projects do you have for the future?
My projects include getting together with those I love and who accompany me each day, my wife, my deputy chef Florent Bigot and my sous chef Cyrille, to create an amazing pastry shop where I can indulge myself and let my creativity do the talking …
What would you like to wish readers of LiFE Magazine?
I hope readers of LiFE Magazine enjoy life to the full and believe in their dreams! Don't let anyone tell you can't do it!