The radiant Tatiana Silva who presents the weather on TF1 took time out to talk to LiFE Style Magazine.
Could you tell us a little about your background?
I come from Cap-Vert, but I was born and brought up in Brussels. Up to the age of 16 my life was fairly uneventful, and then my mother passed away. After studying public relations for a year I started working to earn a living. In 2004 I was a candidate in the Miss Belgium beauty contest which I won and this completely changed my life, bringing with it loads of new opportunities. Four years after I found myself as stand-in presenter of the weather on RTBF. I then went on to join M6 and TV5 monde before joining TF1.
Was it not too difficult to get used to life in Paris?
Most people of my age already have a close knit circle of friends and family. it's not always that easy to integrate, and I'm not saying that because the Parisians are not welcoming!
What did participating in "Dance with the Stars" with your partner Christophe Licata mean to you?
There are a number of milestones in life. For me it was like a sort of therapy, a way to confront my fears and to work on myself. To participate had been a dream, and it came true. "Only the sky is the limit" is one of my preferred mottos.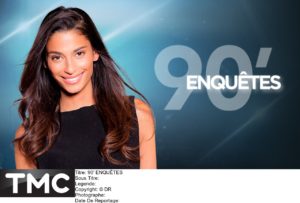 You recently took over "90' enquêtes" on TMC. What sort of a challenge is this for you?
It's a very interesting challenge! I have always been fascinated by documentaries and investigation. The team welcomed me in with open arms and helped me enormously at the start.
What are your passions in life?
I'm an epicurean: I love cooking, eating, reading, travelling. Spirituality and the study of human behaviour are two other passions I have. Maybe I should have studied psychology. Man and man's development really interest me.
As a UNICEF Ambassador you fight against climate change and the impact it can have on children. Did you feel you had to sign up for this cause?
I receive a lot and feel I need to give back a lot too, to create a sort of balance. Also, I love children in general, probably because of my background. I recently travelled to Madagascar where I met many wonderful people. Despite the image people have of Madagascar as a paradise Island, the county is incredibly poor and needs help.
What can we wish you for the future?
Good health and more particularly, to reflect who I really am…
The gallery was not found!