Overlooking the famous Vieux-Port, this five-star hotel is the successful combination of history and an audacious contemporary design and is a leading establishment in the discreet world of luxury hotels in the sou th of France. 
Let yourselves be tempted by the contemporary design and refined decor of the hotel's guest rooms and suites that offer the confort and luxury needed for a memorable stay. 
For the exclusive pleasure of its guests the hotel is home to the Sofitel Spa, whose 600m sun-blessed spa zone includes a pool, sauna and hammam and also provides well-being and relaxation treatments in a deliciously calming environment for an exclusive experience.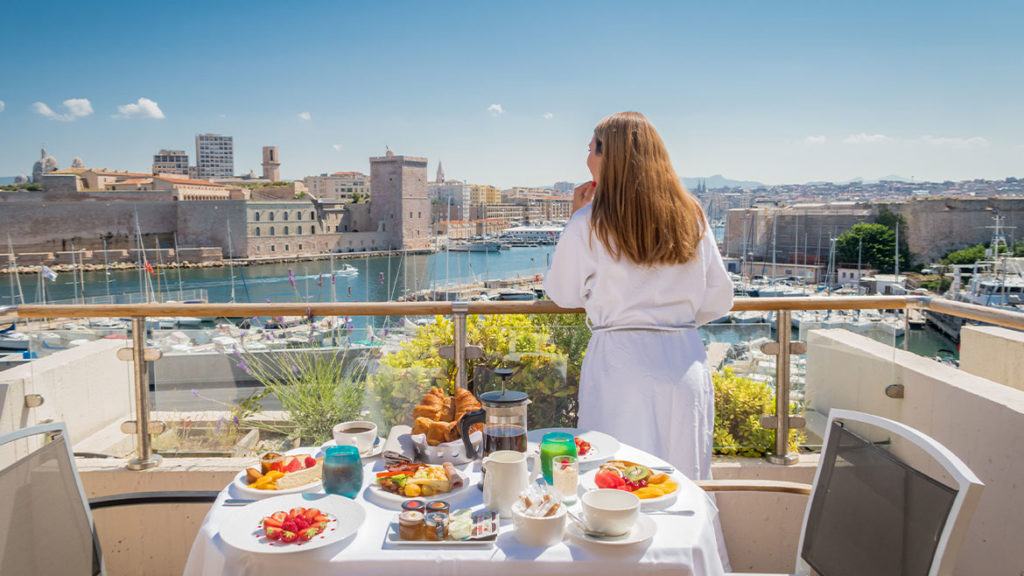 Crédit photos : Sofitel Marseille Vieux Port
Your culinary interlude is a pure pleasure trip, whether in the chic and trendy Le Carré Bistromanie or the outstanding Les Trois Forts gastronomie restaurant where chef Dominique Frérard carefully and skilfully prépares his dishes that are a tribute to everything the Mediterranean can offer, Completing the fairy-tale experience is the open air Dantès bar-lounge that opens onto a 150 m2 terrace where guests can enjoy a glass of fine champagne while taking in the music or a cocktail and tapas under the warm Marseille sun. 
During the summer period, DJs and bands perform live and set the scene as evening comes. Live music at the Dantès is also a not-to-be-missed attraction! 
Be prepared for a memorable time, day and night, at the Sofitel Marseille Vieux Port. 
Hôtel 5* • Spa • Restaurant Gastronomique • Brasserie • Bar Lounge- 36 boulevard Charles Livon-13007 Marseille
Tél. : +33 (0)4 91 15 59 00 • www.sofitel-marseille-vieuxport.com