Marrakech displays its tasteful best with La Mamounia, a haven of greenery and total luxury.
The splendid ochre buildings that date back to the beginning of the 20th century overlook the estate's thirteen hectares of gardens and exotic plants. Exploring the gardens awakens senses with the green of the palm trees, the sweet fragrance of the orange, lemon and fig trees, the delicate rose bushes that thrive in the local climate, bird-song… a truly unforgettable experience.
The discerning European clientele, numerous politicians, stars and fashion designers select the estate for its calm and discretion. La Mamounia has 135 guest rooms, 65 suites, 6 exceptional suites and 3 riads that have all been designed to respect the original layout and architecture of the buildings. All guest rooms have sun-soaked terrace areas overlooking the luxuriant gardens.
This former riad has crafted its history over time, to ensure your stay is as memorable and as relaxing as possible, a 2,500 m² spa zone welcomes guests for a time of total well-being amidst a subtle blend of Moroccan culture and Eastern tradition.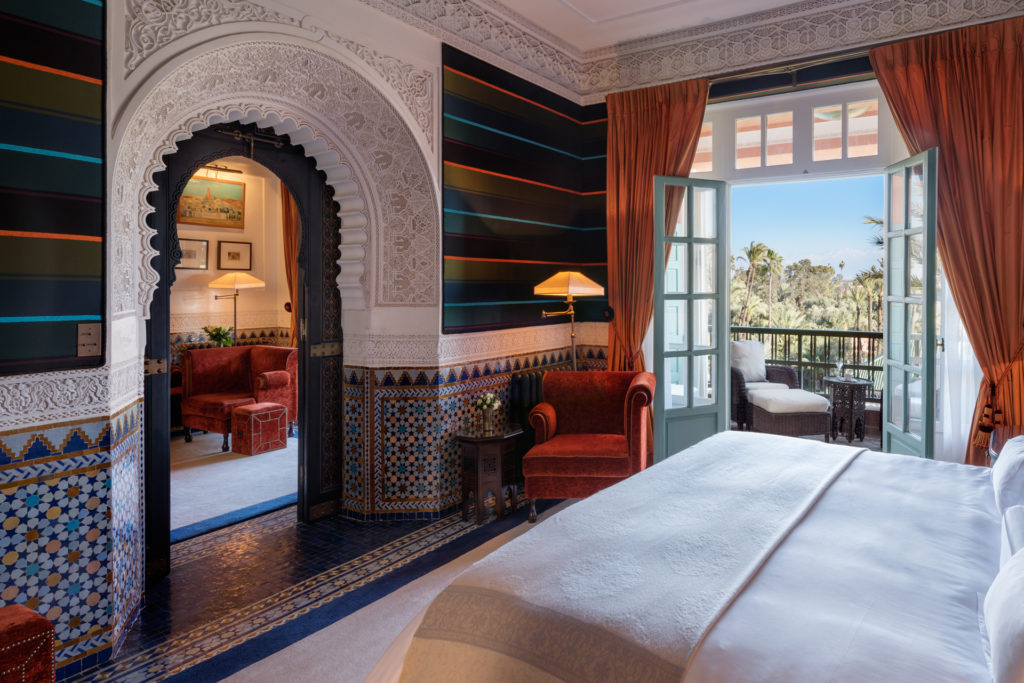 Your journey continues with a tour of the gastronomic world within the various tables of the Mamounia where the famous chef Jean-Georges Vongerichten will be at the head of the Italian and asian restaurant. The Italian table will delight the lovers of authentic cuisine in a warm and romantic setting with seasonal products, sometimes from the garden.
The asian table will be in its image: elegant, delicate and fine. Pierre Hermé, the famous pastry chef will continue to sublime desserts and reserve some suprises.
Le Marocain completes your culinary experience in a three-storied riad where the starred chef carefully combines tradition and modernity to ensure guests fully appreciate the local cuisine.
Come and experience Marrakech, its history, colours and traditions while soaking up Moroccan art de vivre. La Mamounia offers its guests an intense, mystical and unforgettable time.
La Mamounia – Hôtel 5*
Avenue Bab Jdid, 40 040 Marrakech, Maroc
Tél. : +212 5243 88600 – informations@mamounia.com