Hôtel Regina, Elegance And Refinement
Enjoy an unparalleled view of the city from this famous landmark hotel located in the heart of the 1st district of Paris.
Dating back to the Second Empire, the Hôtel Regina was the first hotel opened by the French Groupe Baverez. Located in the same area as the Louvre, the establishment is listed among the historical heritage of the capital. Offering an unparalleled view of the Jardin des Tuileries and the Eiffel Tower, the Regina Paris welcomes guests into a world of refinement and intimacy. Much appreciated by an elegant and fashion-conscious clientele during the fashion weeks, the Regina offers a much sought-after "Made in France" ambiance.
The hotel's amazing sculpted wooden entrance sets the tone and leads into the 1900 gallery. Several months' refurbishment work has given the Regina a new lease of life with a stylish blend of classicism and modernity. The hotel has 99 guest rooms including 32 suites most of which offer unmatched views of the city of lights. The establishment offers an intimate family ambiance and is considered a haven of peace by its loyal clients. And quite rightly so since the hotel was awarded the label "Quiet Hotel Room Category 1-31" for the excellence of the sound insulation in all the rooms. Refreshingly silent 5 star luxury!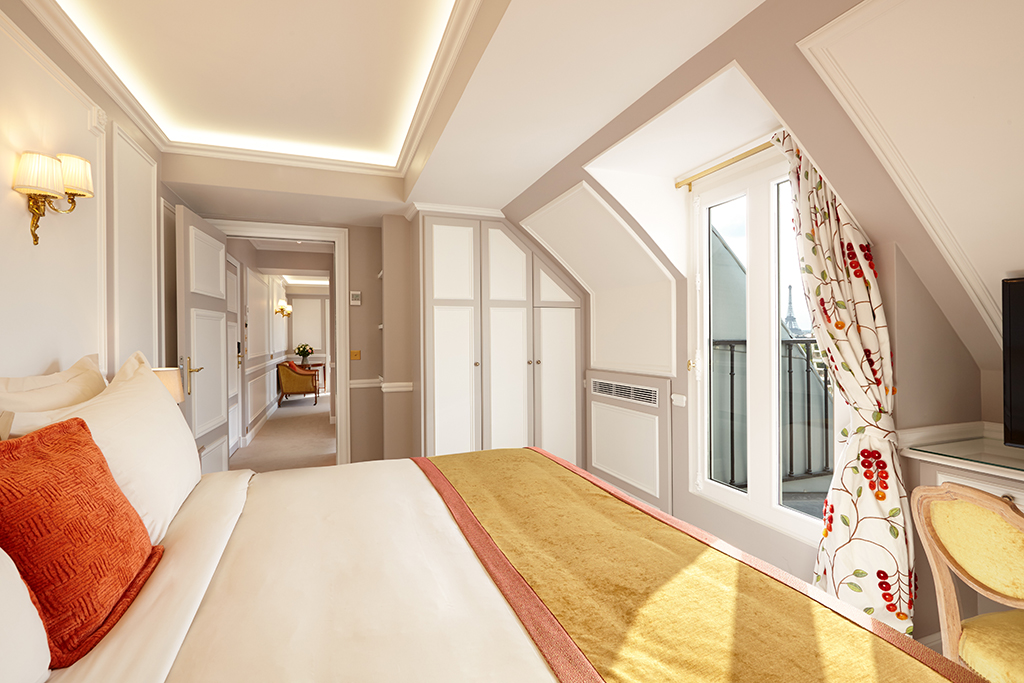 Copyright photos : Hôtel Regina
The film-making industry has enhanced even further the reputation of this remarkable establishment in recent years with over 100 films in just thirty of so years: from Francis Girod's La Banquière to Luc Besson's Nikita and On Connaît La Chanson by Alain Resnais. Today, the managing director Véronique Valcke tends to the savoir-faire that has been handed down through four generations. Véronique Valcke has both taste and character and took up the reins of the Groupe Baverez to continue the family tradition with their three 5-star Parisian hotels: The Raphaël, Majestic and Regina. All have offered shelter to VIPs and been used as film sets.
Promoting art, culture and French-style sophistication and art de vivre remains a priority for the French group.
Hôtel Regina
5-star Hotel
2 place des Pyramides
75001 Paris, France
Tél. : +33 (0)1 42 60 31 10
reservation@regina-hotel.com
reservation@regina-hotel.com
www.leshotelsbaverez.com/fr/regina
The gallery was not found!