Pure elegance in the heart of Paris
At number 17 avenue Kléber, in the very chic 16th district of Paris, is the Hotel Raphael, one of three establishments that belong to the Groupe Baverez. This family run hotel is steeped in tradition and is located just a few streets from some of the capital's most prestigious fashion boutiques, museums and other attractions.
Luxury, chic and tradition and the watchwords of this exclusive hotel that has long been considered a high-end refuge for the world's most famous names. The tradition of the past is still present in this hotel that continues to showcase elegance à la Française. After taking the panoramic elevator to the 7th floor, guests get to appreciate the establishment's real show-stopper.
A freshly renovated terrace area offering 360° of unparalleled panoramic views of the city of Lights. The VIP panoramic view takes in the Arc de Triomphe, the Eiffel tower, Sacré-Cœur, they are all there to admire.
On the culinary side, the dining experience is handled to perfection. Chef Francisco Merino welcomes guests to the restaurant up on the intimate and romantic terrace, like a roof-top garden, to delight in subtly refined and inventive dishes. The bar is the place to come for an in-fashion lunch with a lunch-box bento !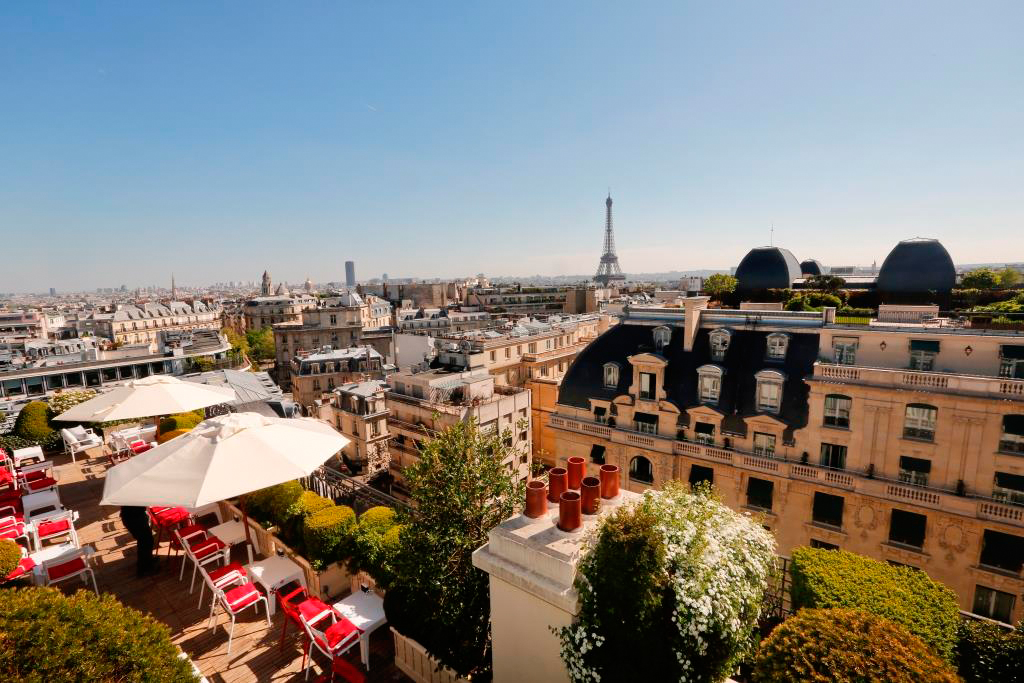 Copyright photos: Hotel Raphael
Véronique Valcke is the managing director of the French Groupe Baverez, and keeps the history of her family alive with their three 5-star hotels: Raphael, Majestic Hotel & Spa and Regina. Art and culture have always been high-ranking priorities for the Group and all three have discretely welcomed famous names, stars and actors, and also been used for film sets, exhibitions and even fashion shows … With nearly 100 years of experience, the Hotel Raphael is undoubtedly an ideal of French-style luxury
Ranked among the top 25 hotels in France by Condé Nast Traveler, the Raphael is a much sought-after address.
HOTEL RAPHAEL
17 Avenue Kléber
75116 Paris, France
+33 (0)1 53 64 32 10
www.raphael-hotel.com
The gallery was not found!