Euromediterranée: Uplifting Marseille for the past 20 years
1995. Marseille and the surrounding region was in need of a face-lift and Euroméditerranée was launched to include the refurbishment of some 480 hectares in the very heart of the city. 20 years on, the outcome of this huge urban development project is a resounding success. Euroméditerranée meant rethinking and redoing the city itself in an area where the industrial-port sector was extremely rundown up until 1995. Today, Marseille is shining once again and attracting tourists and businesses alike from the world over.
Focus on Southern Europe's largest ever urban development program.
Inaugurated in 2013 to coincide with the Marseille European Capital of Culture and to showcase all that makes Marseille what it is. "Euroméditerranée brings together 80% of Marseille's cultural venues." Explains Laure-Agnès Caradec, President of Euroméditerranée.Convinced that a vibrant arts and cultural sector is a real driving force, Euroméditerranée is behind the development of some major cultural complexes: MUCEM, Silo d'Arenc, the Departmental Archives, a major contemporary art collection (FRAC), the Belle de Mai center and also the planned opening of a multiplex movie centre in 2018, just opposite the Silo.
On the retail front, Euroméditerranée has created 2 major shopping centers; the Terrasses du Port with 190 different retail outlets spread over 61,000 m2, and the superb and much acclaimed vaulted Voûtes de la Major with 7,300 m2 of shopping space. All this together has made Marseille a key destination for tourists and today greets 5 million tourists and 1 million cruise passengers each year.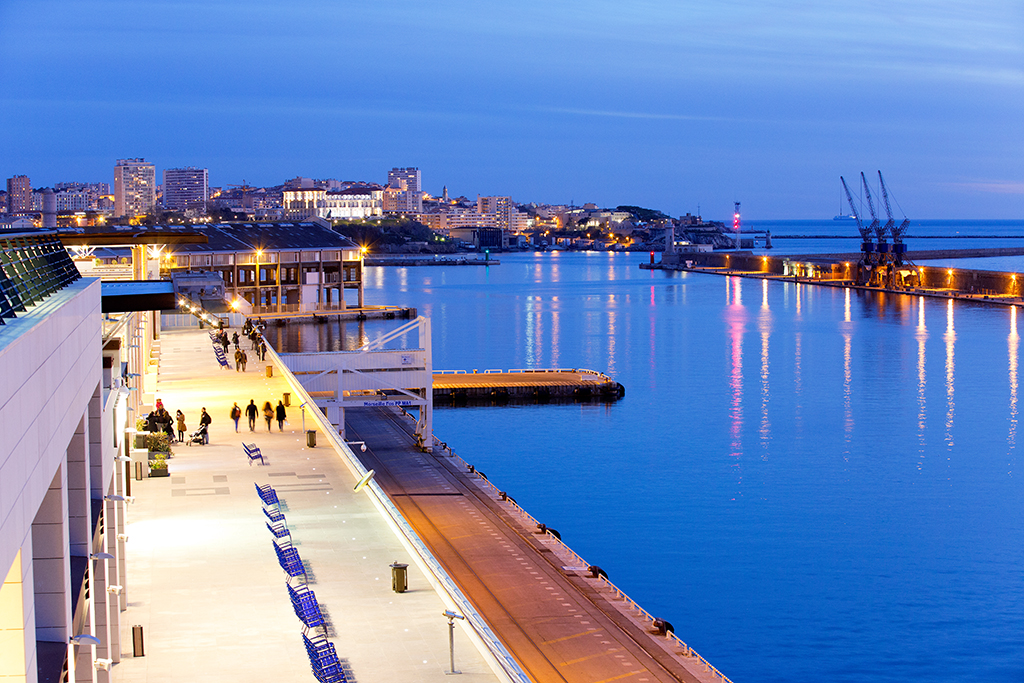 Copyright photos : Camille Moirenc for Euroméditerranée
Euroméditerranée also meant the development of hotels and a number of 2 to 5–star hotels and holiday residences were added. In all, over 1,200 rooms were designed and the construction of a number of other hotels is in the pipeline.
Euroméditerranée also means economic development with the creation of a major business district aimed at attracting key international groups to Marseille. 21 years later, the results are there for all to see: 22 hectares, 120,000 m2 of office space, 340,000 m2 of shopping facilities … making the Joliette district France's third largest business area. According to Agnès Caradec: "Since 1995, Euroméditerranée has attracted over 900 firms and created more than 20,000 jobs".
Euroméditerranée also means economic development with the creation of a major business district aimed at attracting key international groups to Marseille.
And to accompany the economic growth, Euroméditerranée is also involved in the production of high-end housing and the refurbishment of rundown accommodation. 3,827 housing units have been delivered and 3,411 others renovated to house some 10,000 people. And the transition does not stop here… Partnerships with the property developers Constructa and Eiffage will see the creation of Le Castel and H99 towers to complete the project with style and audacity, creating symbols of the new Marseille sea-front skyline. These breathtaking towers in the business district will reflect all the talent of renowned architects such as Zaha Hadid, Jean Nouvel and Massimiliano Fuksas…
While the figures confirm the success of the Euroméditerranée project, raise your eyes and admire the city's metamorphosis, grander and more resplendent than ever!
EUROMÉDITERRANÉE
www.euromediterranee.fr
The gallery was not found!