The Sea Lounge is magnificently located on "Palombaggia" beach, nestling between the sea and the Corsican maquis in a naturally uns- poiled setting where nature decides who gets what of the white sand and deep blue water.
In this prime position, the Sea Lounge invites guests to enjoy its choice of high-end tailored services. Make the most of a relaxing break in an outstanding setting on one of our many super comfy sun loungers and our personalised services for families or groups for an unforgettable time at the water's edge.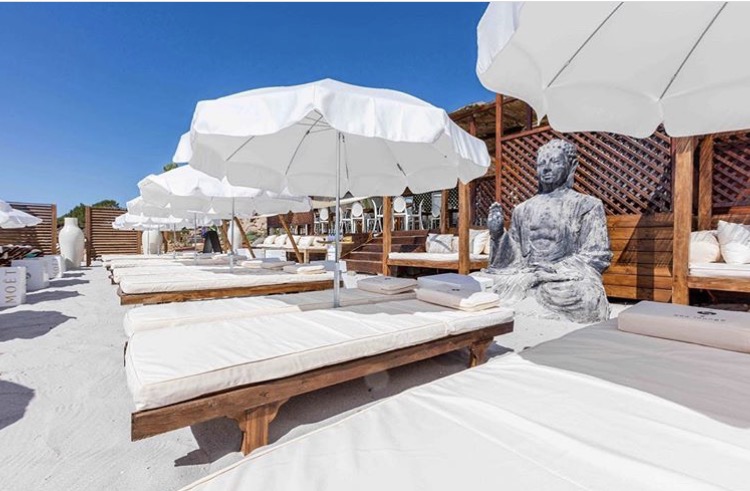 Copyright photos : Sea Lounge
To round off this moment of serenity, Chef Stéphanie Ruelle prepares a selection of mouth-watering dishes that perfectly reflect everything Mediterranean. From the large terrace over-looking the sea, appreciate a culinary experience in a superbly refined decor of wood and reed and Philippe Starck designed furniture.
The head barman is on call with refreshingly original cocktails throughout the day and as the day draws to an end the lounge music starts up transforming the Sea Lounge into the ideal place to admire the setting sun.
THE SEA LOUNGE SUNSETS RITUALS
The Sea Lounge's Sunsets Rituals are the summer's biggest event. Every day during August from 5pm to 8pm the beach becomes a chic and trendy Mediterranean coastal club.
As the sun sets, it's drinks time with DJ Moxo and other starred guests.
On the program:
After having lined up some of the biggest names last summer with Kungs, Jonas Blue, Møme… this season's Sunsets Rituals are looking to be even bigger!
Among the prestigious guests this year are the famous DJ and recent winner at the music awards Kungs who is back again, Bakermat's saxophonist who will also get the crowds moving with hits such as "One Day", "Living" and "Baby".
Brazilian DJ Alok, recently ranked 25th best DJ in the world, the Swedish group Neiked with their international hit "Sexual" and Ofenbach who have got the world dancing to their song "Be Mine".
Not forgetting French electro stars Ødyssey, Huko, Bormin', the masked German DJ Claptone and also Burak Yeter who is currently topping the charts worldwide. 
For the first time Martin Jensen, the undisputed leader of the tropical house movement will be performing in Corsica. And to ensure the dancing never stops this summer we also have Henri PFR, Dimmi, Consoul Trainin, Mark MacCabe and Watermat who set the beach on fire last summer.
One of the most anticipated events this season is without a doubt the presence of British DJ Jax Jones whose "You don't know me" is guaranteed to get the Sea Lounge really swinging!
Le Sea Lounge Beach
EAT – DRINK – SWIM – RELAX
Route de Palombaggia
20137 Porto-Vecchio, Corsica
+33 (0)6 15 73 43 06
www.sealounge-portovecchio.com
The gallery was not found!