Who had the idea of creating the duo?
I did. I suggested the idea to Léa Salamé two or three seasons back but it didn't happen for various reasons and then the channel came up with a proposal and it became a reality in a year when there will be the presidential elections
Are there any questions you refuse to ask? Questions you consider taboo?
I do try not to insist too much on the private lives of our guests unless of course their private life has become public because they chose to make it so or because of certain events. Otherwise, nothing is taboo!
You have had a series of successful shows over the past twenty-five years. What is your secret?
The secret is to quickly forget what fails. This has happened but the idea is to learn from ones failures to create something positive. In 1995 when the Niouzes were cut after just 5 days on TF1, I found myself with time on my hands and that's when I started writing my first play. Since then I've written ten or so successes for the theatre. Clearly I have been lucky but the first secret is hard work and perhaps also due to the fact that I am someone who is very curious.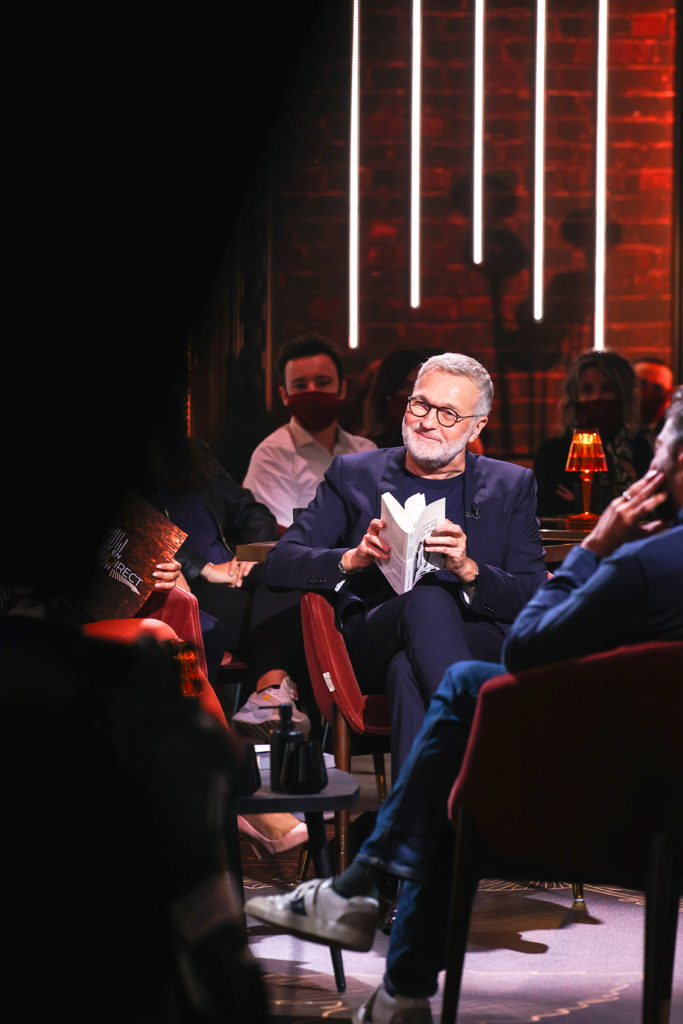 You said recently in an interview that media people feel different. what do you mean exactly?
Unlike what some people may think – excluding those I work with and choose to work with – I don't really spend that much time with people of the media milieu and most importantly I constantly remind myself where I come from. Even if I have obviously changed!
How could it not be so after thirty years working in the world of media.
I never forget what an ordinary life means for the majority of those who listen to us, read what we write or watch us.
We've been through a fairly difficult period recently, a period that meant we had time to reflect upon what Is important In our lives. did you do any soul-searching yourself?
Almost certainly less than some people because I was able to continue working for the radio. I felt I had a sort of mission to continue entertaining those who were stuck at home during the lockdown periods. We felt like resistance fighters in a way and at the same time the privileged few, there to serve as many people as possible.
Are there things you have changed or improved in your everyday life, or new priorities?
I continue to try and do some sport especially because I frequently try to stop smoking but then start up again! More and more often I give myself a break in my native Normandy by pre-recording a few programmes so I can have two or three days off from time to time.
Some people say you prefer to invite and promote new talent rather than your friends, is this still true?
That is probably what is most difficult in my line of work. To choose between responding to solicitations from those who have become friends without forgetting to promote new talent and budding artists. Not being influenced by press agents or complicity is not always that simple. I am aware of the risks but all being said I'm not going to refuse to invite new talent simply on the grounds I might know them. In any case I never invite Vincent Dedienne, Gaspard Proust or Michaël Gregorio to my programme on France 2 to discuss their shows that I have produced. That also includes Thomas VDB. When they do come it's to promote a book or film I have nothing to do with. This is a rule that I stand by. On the other hand, on RTL, a private radio station, I can, and do.
You are a very well-known face on TV, but you also have other strings to your bow; TV, radio, writing
… Is there something new you would like to try your hand at?
I would have loved to work in the print media or run a radio station but I chose not to! I have seen the difficulties and issues involved. I prefer to remain an artist! I'm not a journalist and it's a good thing. I intend to continue writing for the theatre. I have two plays already programmed, the first "Un Couple Magique" with Stéphane Plaza, Valérie Mairesse and Jean Fi Jansen in January at the Théâtre des Bouffes Parisiens, then Michèle Bernier and Frédéric Diefenthal in "Je préfère qu'on reste ensemble" in September at the Théâtre des Variétés . My one big project is my musical comedy on the Marx Brothers that should be ready in two or three years.
Are you a passionate person man or a man of passions?
I am passionate about shows for example, or artists and even football! I'm an Olympique de Marseille fan. My other passion in life is Marie Laforet. She became a good friend and I miss her a lot.
What are your plans for the future?
Over and above the shows I've already mentioned, maybe one day I'll get back on stage for a one man show. Who knows, maybe for my 60th birthday…
What would you like to wish LiFE Magazine readers as the year draws to an end?
A life without masks, with love and friendship, no social distancing and particularly for next year, a good vote!