It is an institution on the heights of the Semper Fidelis city. One of those family adventures that see the happy days pass by, and the memories of grateful generations.
Summers here have the scent of immortelle with a pronounced taste for contemporary art, and as a backdrop the vision of an eternal citadel and the mountain range of Monte Grosso. Beyond this breathtaking panorama, contemporary lines and a sense of hospitality that has become legendary, Villa Calvi is above all one of the rare emblematic addresses that steps out of its comfort zone with enthusiasm and curiosity.
Arty, epicurean and increasingly sporty, the Pinelli family cultivates a sense of the immutable but has no equal in sniffing out the spirit of the times…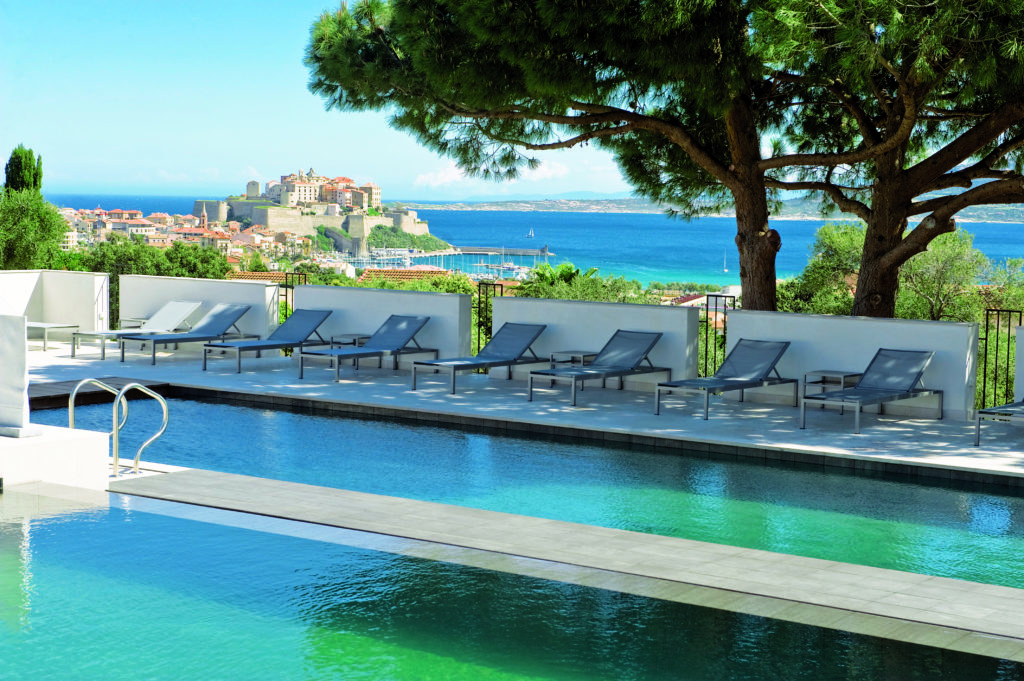 An emblematic address
Just listen, let yourself be lulled by the anecdotes of Jean-Pierre Pinelli, owner and visionary hotelier, to verify the unspoiled attraction of this site for more than 30 years. Raised in the middle of more than three hectares of Mediterranean gardens designed by Bruno Dumoustier, landscape architect from the School of Versailles, Villa Calvi derives its unique-ness from everything it brings together: a panorama summoning up history (a 12th century citadel cen-tury with its village which unrolls its ocher facades on the hillside), the Riviera horizon and the highest peaks of the island, a hundred endemic species scat-tered between the rooms – olive trees, arquebusiers, lavender, cypresses, umbrella pines, oleander… – and a contemporary bias that combines graphic lines, works of artists and open spaces. Over time, Villa Calvi has established itself as a destination in itself.
HÔTEL 5* & SPA • Chemin Notre Dame de la Serra • 20260 Calvi
Tél. : +33 (0)4 95 65 10 10 • www.hotel-lavilla.com