Playing a James Bond Girl alongside Daniel Craig is quite something I guess! What memories do you have of filming Casino Royale ?
When we started filming Casino Royale, I didn't really realise what it meant to be a James Bond Girl with Daniel Craig. It only hit home when we started promoting the film the world over, from New York to Sydney. The experience allowed me to work and live without being star-struck nor under any real pressure during the filming. It was a truly awesome experience!
You have been the ambassador for the AMREF association for France and Italy since 2006, you are extremely involved in the protection of animals and have your own brand of jewellery!
Where do you find the time to do all that along with your acting career?
How I manage my time is extremely important to enable me to devote time to each of my different activities, acting, being an ambassador for the AMREF and campaigning for the protection of animals. Thanks to the passion and pleasure it gives me and the support of my family, my friends, my partner and even my cats (laughter) I manage to do everything I want to.
How do you manage to find the right balance between your passions and your professional commitments?
I try and avoid people who have nothing to give. I prefer positive energy. I choose things that do good and therefore make me feel happy. Like when I get home after offering a dog to a lady who was waiting for one and who is sure to offer it a wonderful existence. You can feel the energy and I think this makes your heart bigger. This is what makes me happy today, I love it! It's a question of knowing what makes you happy, and that I have understood.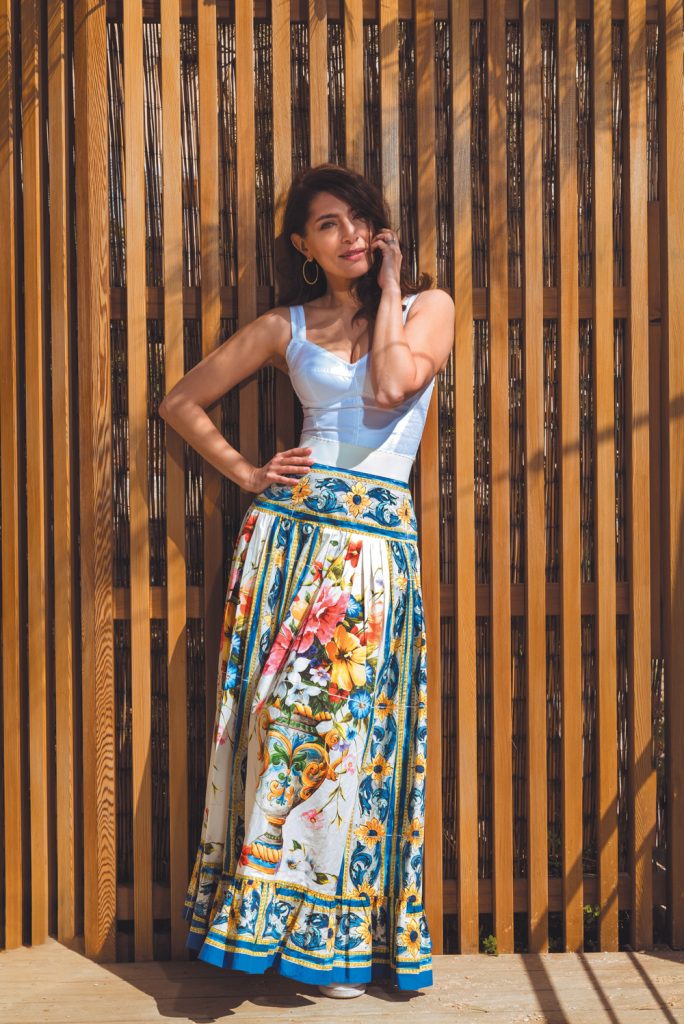 We have seen you star in a variety of different TV series and in different kinds of roles. What do you feel most comfortable doing, Comedy? Crime?
I feel most comfortable in dramatic roles, those that are heavy in meaning. The most moving was in the play «Medee», that was produced 10 years ago, but I also enjoy other registers as in the series «Le temps est assassin», «Balthazar» and «La maison d'en face». One of my favourite roles was in the film «Deep», written and produced by Corsicans. At the end of the day it is important to know what makes you happy and for me, this means playing roles that mean something.
What do you get on stage that you don't get on a film set?
The theatre is a one-of-a-kind and thrilling experience, something you don't especially feel on a film set. The adrenalin starts flowing with each performance and playing live also adds a sort of unpredictability. This uncertainty is what make the theatre so exciting. Each evening an actor has to start all over again, to avoid getting bored and boring the public at the same time. Such sensations are radically different from what one feels on a film set.
We'll be seeing you soon on Prime Video in the series Escort Boy by Ruben Alves, who describes it as «an inventory of today's desires ». What are your thoughts on that?
No bad at all! It's a very interesting series that explores contemporary desires through the character of a young man who becomes an escort boy to save the family farm. The series is both astute and moving. It offers an opportunity to reflect on today's society and the notion of humanity in professions that are often misunderstood.
You come from Sardinia and have been living a wonderful love story with France since 2003. Was it love at first sight?
Exactly! It really did start out as love at first sight. In fact, Corsica received me with open arms, as if I was at home with my cousins. I was extremely moved by the welcome. Then, I was fortunate enough to have different jobs in Paris which enabled me to settle down there without really having to make any real effort. In a way it is curious because I have seen a number of Italian colleagues trying and failing to get in, whereas you opened the doors almost immediately. It all happened quite naturally and I am over the moon.
What is your dream role?
Lady Macbeth at the theatre. And also the German spy Mata Hari. But frankly, James Bond gave a lot of directors ideas and they send me scenarios that are so very different and it's just great!
I am open to discuss all sorts of proposals.
What is your best memory when filming?
I have quite a few. « L'Enquête corse » was one village party after another for four months, it was wonderful! When the filming is blessed, you can sense it on the screen, there is something special, a special sort of energy like during « Casino royale ». Everyone thinks and says it is one of the best because there is a sense of energy on the screen. "Deep » also had something magical about it, I loved it.
In these films the energy is so positive that they will survive the test of time.
Where are you going this summer to chill out?
To Sardinia or with your favourite neighbours in Corsica!
Corsica was last year, so this year it will be Sardinia and Greece!
My parents-in-law have a house in Greece in Epidavros that is famous for its antique theatre, one of the world's most important Greek theatres. Then in Sardinia with my brother at our house in Palaos, right opposite Corsica.
What projects do you have for the future?
I am very happy to announce that I will be this fall at the Michodière theater in Paris to play in Michel Fau's new play.
What would you like to wish readers of LiFE magazine?
A wonderful summer and to do whatever fills their hearts with happiness!