Model, journalist then stylist for Elle, Carine Roitfeld took over the reins of Vogue Paris Magazine for 10 years.
Just before this, the inspirational young woman become collaborator and muse for stylist Tom Ford.
In 2012, she launched her own magazine the CR Fashion Book and at the same time was appointed Fashion director for Harper's Bazaar. Today, she is promoting her own line of perfume.
A dream career… so just who is Carine?
10 years running Vogue Paris is quite a feat … What is your best memory?
To celebrate the 90th anniversary of Vogue we launched an edition followed by a memorable party. I resurrected the idea of masked balls. No-one in Paris wore a tuxedo anymore and I had the feeling I had re-launched a tradition that had been forgotten. The guys had to go out and buy one. In London and New-York you still have a lot of such evenings, but nothing anymore in Paris. Even top models turn up to shows in sneakers, they don't make the effort anymore. The tuxedos and evening gowns was like a mini revolution that has continued and I'm delighted to have pioneered it. All those girls who could finally wear what they really felt like wearing in total freedom led to some incredible looks! When I look back at the photos, I get the impression we set the bar pretty high that evening!
I have always considered Vogue as an avant-garde magazine, specialized, and risk-taking. For the 90th anniversary issue, I selected a number of old photos I remembered taken by Bourdin, Hamilton, Sieff… ones that would be rejected today. We mixed them with current photos and the combination was fantastic.
At the end of the day, I managed to make the magazine look like what I remembered it as and this was a great personal achievement. I was pleased to be able to give this issue of Vogue a personality, a little politically incorrect, borderline but still pretty chic.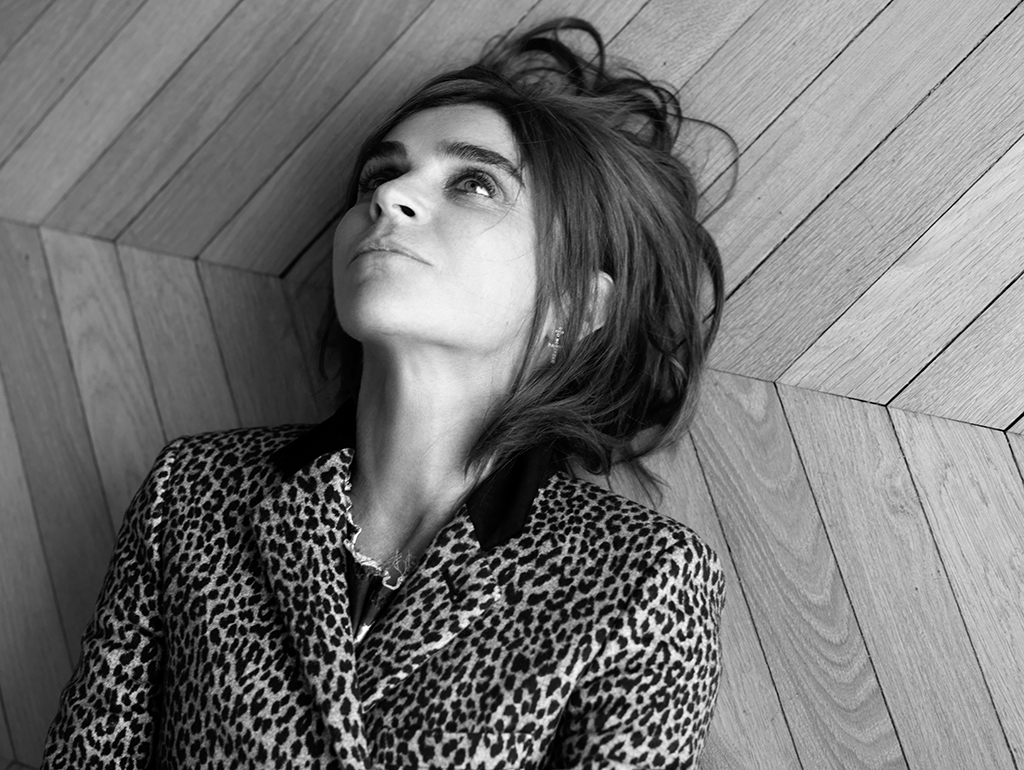 Copyright photos : Carine Roitfeld
You often spent time backstage at fashion shows so have you got an anecdote for us that makes you smile when you think back.
I have one but it's a bit sad … I was used to seeing fashion shows with amazing atmospheres, like those with Jean-Paul Gauthier, where everyone had a great time and the people would clap to thank the designer for his work. This doesn't happen anymore, people now film the show with their phones, no-one applauds and the party atmosphere and enthusiasm have disappeared.
Business is omnipresent. The designers are afraid, they are asked to do so much and you can really feel it. The creative environment has gone. There is so much pressure and if you don't have the resistance of a businessman or the will-power of a Karl Lagerfeld, it's complicated. But never forget a stylist is first and foremost an artist.
I worked with Tom Ford and Gucci for 10 years. I prepared the shows, it was amazing. Tom Ford was the world champion for warming up and motivating his team like the trainer of a baseball team. He would say to the girls: "you are all beautiful, now you are even more beautiful, you are wearing clothes that make you ultra sexy and you must show this during the show. I want that the women watching the show desire everything you have. I want that the men watching the show want to sleep with you." A pretty pushy speech but it worked! The girls were ready for anything when they go to the podium. Now, things have changed. You even sometimes see backstage notes like "Do not smile", "Do not look at the photographers"… But a model needs to have a personality. Today, they don't even have time to grow up. They are 14 or 15, how can you ask them to be sexy, they are still children.
Can a fashion-designer make his mark today when more or less everything has already been done?
That would be so great … Past fashions are coming back. Full circle. Once in a while, someone has an idea. In the last 20 years, there have been some pioneers like Jean-Paul Gaultier in France who did everything possible or Yves-Saint Laurent, Coco Chanel, and Karl Lagerfeld who continues to create an event with Chanel. Then the Japanese came with their own brands like "Comme des garcons". Nothing frightens them and we don't even know if it's art or fashion.
Personally, I love Vivienne Westwood. Fortunately some people have the capacity to make us dream. Today it's not easy to imagine up a five-sleeved jacket and no-one wants to create for the sake of creating. Now, you can take something that exists and change how it is put together. There are designers who present some pretty daring combinations and occasionally they can be quite fun.
here aren't really any trends anymore. Women decided there wouldn't be any and that they would wear whatever they felt good in.
What word sums you up best: provocative or marginal. Or both
I don't do anything to be either one or the other. I am who I am. Provocative, no that's not me. I have a certain level of fantasy or imagination but I don't play with it. I wear silver shoes.. people either like them or don't like them … it's just me being me. Nothing in fashion worries me. I don't make any particular effort. I guess I am fairly spontaneous which is not always a quality. One day I was interviewed by Vogue Paris, and the first question was: "What do you think about jewelry?" Now jewelry represents about 30% of our advertising revenue and I said: "diamonds are nice when you are under 25 or over 60". That's what I mean when I say spontaneous.
You are also the instigator of Porno chic, isn't that a bit provocative …
I prefer the term erotic. As far as sex is concerned, it's better to laugh rather than be embarrassed. I used it within certain limits. The influence was our famous advertising campaigns for Gucci, with Mario Testino on the left, Tom Ford on the right, and me in the middle. Tom was an impressive client, ready to do almost anything, as for me, if you let the horse out of the barn, I am prepared to go a long way. The sexual woman I used was never submissive. When she undresses, she decides and she assumes. Even with the bandages, you never feel she is suffering or ill at ease. I have too much respect for women to reduce them just objects. They have a personality, they can decide for themselves.
You said "elegance is a mindset" but what if you just don't have this?
You can learn not to make mistakes, to look around you, read papers, learn about zero risk. But chic is not something you can learn. You are or you aren't. It's a gift as the English say.
Finally, it's part of us, it's an attitude, a way to cross your legs, sit, stand, speak …
Elegance is also the opposite of negligence. I don't like lazy comfort. I don't have any sweatpants or sneakers or jeans. If I am lounging around at home, I wear cashmere leggings and a cashmere top with a pair of ballerinas. I love clothes that fit well and require a certain posture from the wearer.
To be at the top of the fashion scene this summer, could you give us a few fashion tips for 2016?
There aren't really any trends anymore. Women decided there wouldn't be any and that they would wear whatever they felt good in. The one or two pseudo trends going around are something a little hippy-ish, see-through djellaba for example for the beach, something a bit Brigitte Bardot, that always works. But, true trends have gone and good riddance! Women are more intelligent, they don't need trends to follow like sheep anymore.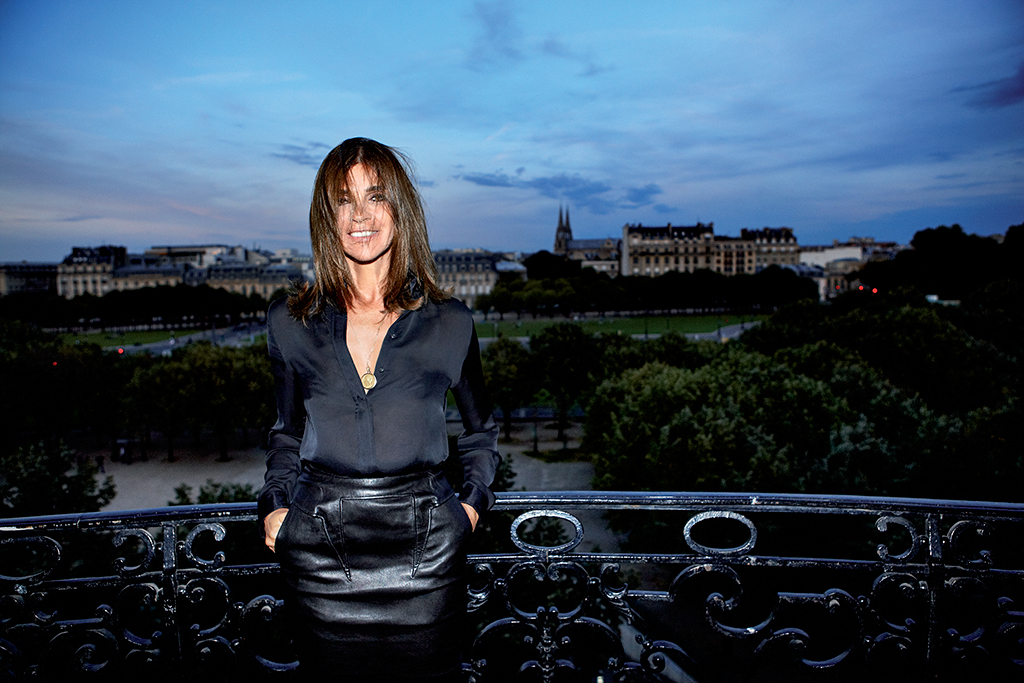 A word to finish?
If I was a designer, I would say I have yet to give my best show ever. Personally, I haven't published the perfect magazine yet, my perfect shoot, … so I keep looking, having fun. In the creative sector, I can do better.
One day my son said to me "do you realize your name is now a brand". This is something I have trouble coming to grasps with because I don't consider myself as someone famous, but I do understand what he meant. I work with others, I create perfumes because after all, my name can be a selling point. Tom Ford is well known, Kate, Karl, Anna… there aren't that many after all and I think that Carine is beginning to make a name for herself. I have patented it so it can be a brand name.
Often my collaborative activities do not last more than one or two years. Like pop-up collaborations. If the perfume works, I will create a project to last and that I can hand down to my daughter and granddaughter…
Carine Roitfeld
CEO CR Fashion Book Magazine
Fashion Director at Harper's Bazaar Group
www.crfashionbook.com
The gallery was not found!