Why did you accept to act in "Les combattantes" and what did the director, Alexandre Laurent, have to say to convince you?
Julie De Bona: During the filming of "Bazar de la charité", the producer thought I, Camille Lou and Audrey Fleurot might be interested in doing a new take with the three of us playing different characters in a different period of time but on the same theme: the place of women in society during a clearly defined period. There was no way we could refuse another feminist fiction because at the time we were experiencing something amazing with "Le Bazar de la charité". The demanding nature and the quality of the production and directing of the initial opus were more than enough. I immediately accepted!
I didn't need any more convincing. I admire Alexandre Laurent's work and am proud to see how he has evolved, so to continue with him went without saying. I just wanted to know what the team had in mind for me and a little more about the storyline.
Camille Lou: We're talking about Alexandre Laurent! I love what he does and have total confidence in him so that was a pretty good reason.
All said and done, Alexandre didn't try and convince us, he simply talked to us all about the storyline, and this is what persuaded us to do it.
Julie de Bona, or Mother Agnès, what other role would you have liked to take on, the nurse, the prostitute or the businesswoman?
Frankly, all three! I really am a fan of the other three characters and the plots that surround them.
I love Suzanne, the nurse, and her audacious, fiery, modern and totally feminist temperament (played by Camille). She has everything it takes to become an outstanding doctor. And to top it all, she is involved in a romantic plot (with Tom Leeb) that I would also have enjoyed playing.
Caroline's role (Sofia Essaïdi) gains in momentum. At the beginning we are presented with a relatively timid woman who gradually reveals her true nature as she takes over the factory run by her husband who has gone to fight in the war. With an amazing amount of courage and strength she manages to organise a fleet of ambulances to repatriate wounded soldiers. I would have enjoyed playing the role of someone who comes to light and grows in strength over time.
Finally, the role of Marguerite (Audrey Fleurot) is wonderful. She is far from faint-hearted, a great role to play, that of a sensual woman who desperately wants to find the son she abandoned and who could be killed at any moment (ed. Her son was trained at the military school Saint Cyr). The tragedy of her situation is really powerful!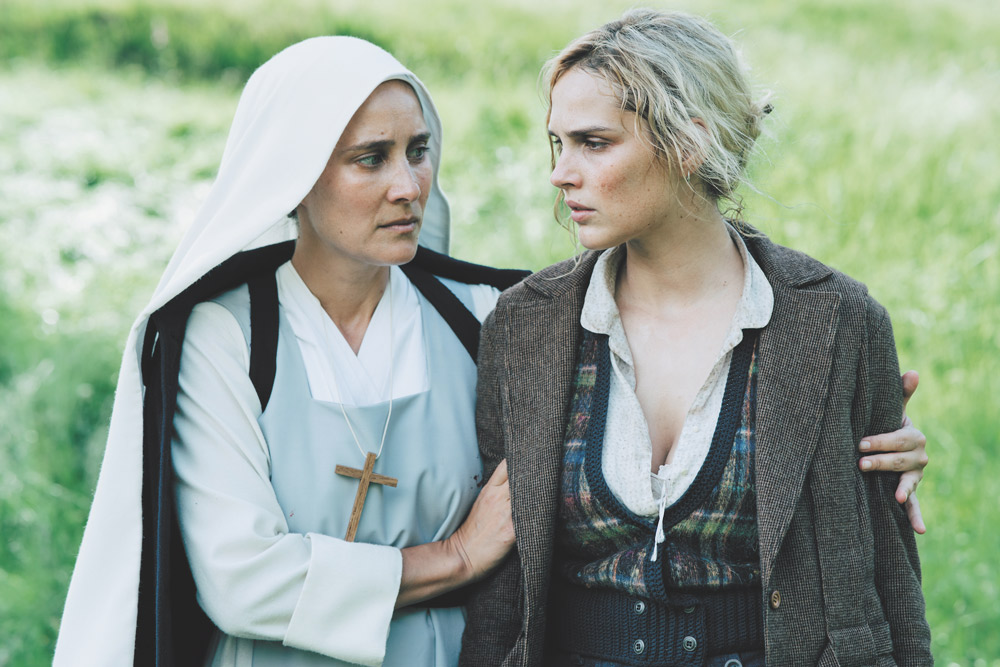 What about you Camille, mother superior, prostitute or businesswoman?
Strangely enough, I love playing the role of Suzanne. I don't think I would have wanted any other role because this one actually corresponds to who I am. Even if the role of Mother Agnès, played by Julie, is extremely interesting too.
What is the atmosphere like on the set of a major production such as "Les combattantes"?
J.D.B: It's true that the set had something of Hollywood about it. A major production means major ambitions and the atmosphere on the set reflected this with a lot of work and preparation. With Alexandre Laurent the atmosphere is very musical too because he plays with music to ensure everyone is moving in the same direction. He is also a little whimsical and likes to add a little bit of fantasy to his sets.
It's also a bit like a whirlwind due to the numerous teams, extras, sceneries. I mean an emotional whirlwind; at the end you feel totally drained but happy to have been part of such a great project.
C.L.: A family atmosphere. Like a big family gathering. It was fun, intense, a really incredible experience. And being all together once again added a special touch to it.
"Le Bazar de la charité" takes place in 1885; "Les combattantes" during the 1st World War. If there was a third opus to the collection, what period in time would you prefer it to take place in?
J.D.B: I could be inspired by a lot of different periods like the 50s for their importance in women's emancipation. Also the clothes from this period are just wonderful. In fact, if there is a third opus, I dearly would like to get to wear a beautiful costume because up to now I really haven't been spoilt as far a clothes go (joke). Otherwise, why not the 70s with the women's liberation movement or the 30s to play around in Charleston-style costumes!
C.L.: That's a very good question. Personally, I don't really have a preference. I like every period and when you share the values of the character the period itself doesn't really matter. That being said, the Viking Age would interest me. I think I would prefer to go back in time rather than forwards.
Julie, you spent some time in Tanzania to film the documentary "Instinct animal". What did you learn from this trip?
What I experienced is almost impossible to describe. The trip was awesome. To find oneself in a situation far from any civilisation is an opportunity to reconnect with oneself and one's vibrations. This experience in Tanzania was both surprising and disconcerting. What I remember most is that I managed to connect back up with my intuition. I was lucky enough to see numerous immensely powerful wild animals which in a way taught me things about myself.
Camille, we got to know you through musical comedies, then on the dancefloor in "Dancing with the stars" before seeing you star in films for the TV and cinema. Would you be tempted by the theatre?
The theatre does tempt me, but because I no longer live in Paris it is a little more complicated. What I love is to travel, to change scenery regularly. What tempts me with the theatre is the idea of sharing the present moment with others.
What projects will you be working on in 2023?
J.D.B: I start the year at the Madeleine theatre in "Suite Royale" alongside Elie Semoun as of January 27. After 15 years of marriage, it's the first time Antoine invites my character, Pauline, to a luxury Parisian palace. And if, despite their meagre income, he has booked the royal suite, it is because he has something very important to tell her, something that will change their peaceful existence for ever …
I will also be in season 2 of "L'école de la vie" on France 2. I play the role of Alexandra Delage, a French teacher and drama teacher. In everything she does, Alexandra empathises with her students. For her, to learn well, you have to feel good about yourself. This is why she does everything she can to solve as many of her students' problems as possible, notably those concerning her sixth grade students. I was extremely troubled by the script and also the character who has so much kindness to share with others. The tone made me think of the film "Dead Poets Society".
C.L.: Season 3 of "Je te promet" should be back soon on TF1, and also a new science-fiction series called "Prométhée" by Christophe Campos.
I've also just done two films, "Chasse gardée" with Hakim Jemili, Camille Lou, Didier Bourdon, Thierry Lhermitte and "Notre tout petit petit marriage" with Ahmed Silla
And what would you like to wish readers of LiFE Magazine?
Boundless happiness!