We have been witness to a number of major events due to the pandemic that began back in 2020. Has the situation changed in any way your way of thinking and doing?
No, other than giving me more time. It meant I had time to write my first book and spend more time with the family.
On the whole, it didn't really change much in how I organise my life because when I am in Paris I work remotely, as a choice, I mean I didn't necessarily wait for Covid to do this.
What impact did it have on your work? Did you have to reorganise things?
We were able to continue filming Koh-Lanta but unfortunately were in a health bubble which didn't make things any easier. We had no contact with the local populations other than those who worked with us so it was quite disappointing not to be able to meet the locals, discover their cultures and country during the filming.
You have come to symbolise Koh-Lanta. Would it also be right to say you are also something of an adventurer?
No way! I would never describe myself as such.
However, the value of words means a lot to me. For me, an adventurer with a capital A is an ordinary person who is capable of pushing his or her limits to achieve outstanding results. And as I often say, "It's not given to everybody to become an adventurer". A real adventurer experiences things like the notion of risk, pushing limits, discovery.
It is important to make the distinction between Koh-Lanta's adventurers, who are adventurers on a television game, and what I refer to as real adventurers such as Paul-Émile Victor or Haroun Tazieff, and who are totally committed in every sense of the word to what they do, even if it means putting their own lives at risk.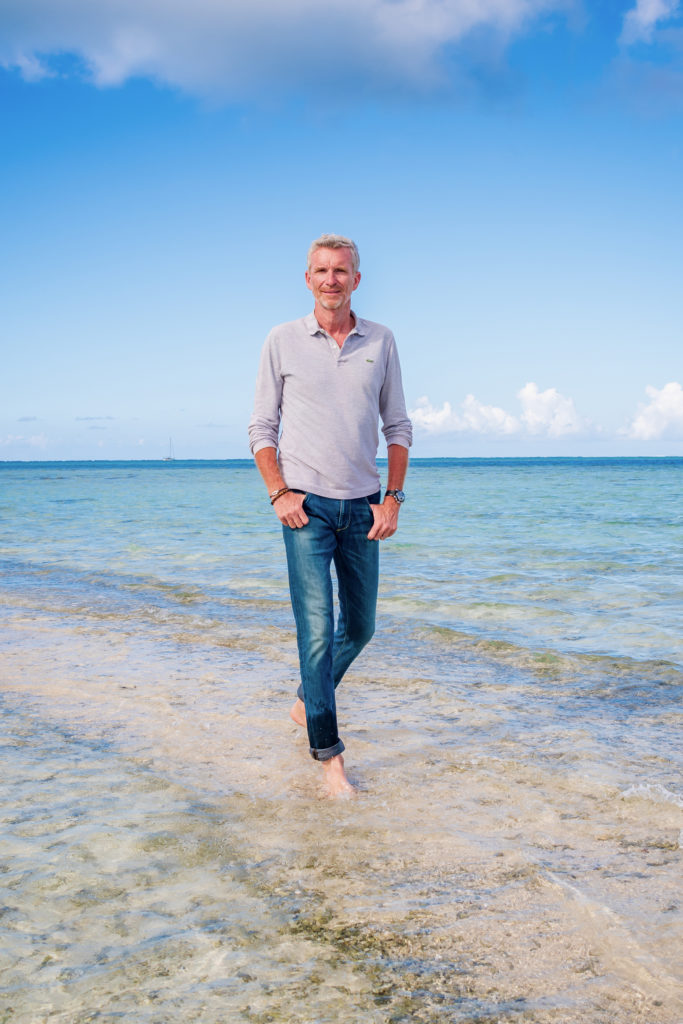 With hindsight, what do you think about how the adventurers have evolved? Would you say they are more focused now on strategy than the adventure itself?
That depends on the adventurers, but the adventure itself is still an amazing experience. No-one ends up in situations such as those in Koh-Lanta in their everyday life!
Being cut off from everyday life is a physical and psychological challenge. That's why the adventure itself and pushing one's limits will always have the edge on strategy even if in Koh-Lanta you do need to assess the others to decide on the best strategy to adopt.
To progress in the game you need a strategy, but this remains less important than creating ties with others, winning the challenges and proving your worth in terms of survival techniques.
More and more viewers say the game no longer rewards those who deserve it most but rather the best strategists. Do you think the time has come to make some changes to the format?
I don't agree with that. I believe that those who think that see Koh-Lanta as a purely physical challenge and that therefore the best athletes should win. But Koh-Lanta is like a cocktail with many different ingredients: you have to be a good all-rounder, equally good during the swimming trials, the games of patience, running and balance. You need to know something about survival techniques to have a leading role at the camp. You also need to be able to manage your team's strategy to decide on the best alliances, find the best strategies and avoid a surprise elimination. This is what Koh-Lanta is all about: you need to be versatile, to be skilled in the three fields to survive and go on to win.
It's true that it is not always, indeed it is quite rare, that the best athlete wins, but if you think back a little, the latest winners were the among the best in all the different fields. They were able to adapt to a world where they learned a lot and evolved to become, little by little, among the best adventurers in their respective teams.
Your spring 2021 podcast "Vie d'Aventure" was an opportunity for a variety of very interesting adventurers in their own right. Are you planning a second season?
Unfortunately, I really don't have the time right now so the project is on hold but I hope to get it back up and running as soon as possible because the adventurers really are remarkably inspiring people.
You have become a key personality on French television, but you also have a number of other strings to your bow, TV, radio, writer… Is there something new you'd like to try your hand at?
I'd like to give dubbing a go or maybe even get on stage … But for that I'd need lessons because I don't think it's something you can improvise!
But I don't have much time right now to try something new and in a way I'm really lucky in fact to be so busy!
What plans do you have for this summer? Where are you thinking of going to chill out?
It's going to be a studious summer! in July I'm presenting the Women' European Football Championship and then I'm off to start filming the next Koh-Lanta… So I'll probably stay in France with the family near the Atlantic or Mediterranean coast. For once I won't be travelling to a far off destination like I usually do.
What would you have done if you hadn't been a journalist?
Maybe something in the world of sport or an explorer-adventurer like Mike Horn!
There are quite a few things I'd have liked to try: I would have liked to be a lawyer to present my arguments and learn to use words wisely.
I also have a strong interest in everything that is military and to enter an officer training school to become an officer in the French army could have been a real calling for me.
When I was young I was attracted to journalism, and sport in particular. So when you get the opportunity to combine a childhood dream, a calling and a profession I've been doing now for over 30 years you really feel lucky while at the same time it is the consequence of years of hard work and effort.
How would you define yourself in just three words?
Enthralled – Impatient – Traveller
What would you like to wish readers of LiFE Magazine?
That they do what they want to do!
To always seek to be marvelled, to escape, to always want to discover our world or even just our country because I sincerely believe, after having travelled the world, that France is the most beautiful country in the world!
Exploration, passion and discovery for readers of LiFE!