Christophe Michalak was born on July 22 in Senlis where he grew up with his Italian mother who was a nurse. As a child he developed a passion for the cinema and became an unwavering fan of the film director Alan Parker.
He began learning his trade at the Chamber of Trades in Angers where he passed his vocational training certificate as a pastry chef. He was top of his class and shortly after won a competition as best pastry apprentice which led him to the Hilton Park Lane in London.
At the beginning of the 90s, Christophe Michalak began a career that was to take him to the four corners of the world to perfect his skills. After London, he returned to France in 1993 and the Hôtel Negresco in Nice where he stayed two years before joining the Fauchon where he stayed until 1997. He then flew out to Kobé in Japan for a year where he opened a pâtisserie, then New York where he was a consultant for Pierre Hermé (1998–1999). Back in Paris following a stint with Ladurée, he was appointed head pastry chef at the Plaza Athénée in 2000. In 2005 his talent was finally confirmed when he was voted the world's best pastry chef!
Christophe Michalak's love for his trade has led to the publication of a number of books in which he reveals some of his secrets. In 2007, he published his first book of recipes: "C'est du gâteau". He followed this up with various other gourmet treats!
He also shares his passion on the television. In 2012, he began presenting "Le gâteau des mes rêves" (My dream cake) on channel Teva during which he prepares a recipe from A to Z. In 2013 he joined France 2 and the jury of the programme "Who will be the next great pastry chef?". At the same time, he presents a daily cook show "Dans la peau d'un chef". In September 2013 he opened the Michalak Masterclass pastry school in Paris where he shares his passion and expertise with other lovers of the same art, professionals and amateurs alike.
The school comes with a boutique where the chef proposes a selection of some of his superhero inspired flagship creations.
Welcome to a world so sweet!
So, could you tell us more about your background?
I was attracted to drawing and architecture and dreamed of entering the school of fine arts. Finally gourmandise got the upper hand and I decided to become a pastry chef. The learning process began in the Maine and Loire region, then I left for London, followed by Brussels, Nice, Paris, Tokyo, New-York then back to Paris. A time spent working in luxurious hotels and famous pâtisseries such as Ladurée and Pierre Hermé. When I was 26 I became head pastry chef at the Plaza Athenée. I was the world champion Pâtissier in 2005, and also inaugurated my consulting agency and travelled the world giving pastry classes. In 2013 I truly entered the world of business with the opening of a school, a number of pastry shops and a few years later, a bakery.
What was it that so attracted you to pâtisserie?
In a word, gourmandise! I also wanted to become autonomous as quickly as possible to make life easier for my mum who was a healthcare worker and also a cleaner to make ends meet… She was the best possible example anyone could wish for. I inherited her determination and have never lost it!
How do you manage to keep an eye on all the different establishments you run and at the same time respect your media obligations and personal life?
It's a question of rigour, trust and most importantly having a good team. To know how to delegate and manage is equally important as being creative. And all those who know me, also know I never give up and constantly try to find the most effective techniques to be as efficient as possible.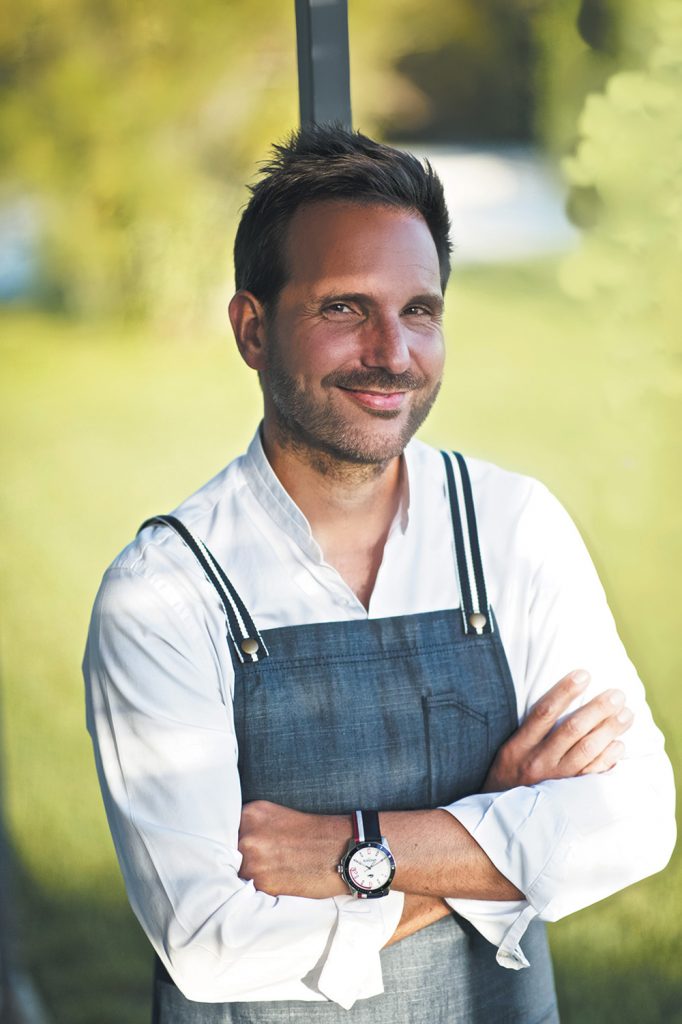 You have also written a number of books and recipes based on your creations. Is this because of a desire to share something with others?
The aim was to make pastry-making easier at home, to make it as fun as rock'n roll. Today, with social media, this is something quite normal. But back in the early 2000s, there was nothing very sexy about being a pastry chef. It has taken an enormous amount of work to make it more attractive.
Could you tell us a bit more about the MasterClass concept you launched in 2013?
The idea is simple. Pastry classes for ten or so people and it's the chef who does the work! It's stimulating for the senses, your sight, touch, hearing and smell and means you can focus on the creative process and the chef's tips. You get to learn a lot more than if you had to wait for each participant to do their stuff. In the three hours you really do learn a lot! We don't do anything over the top just to show off. We work on cakes that arouse emotions and that can be made at home.
How would you define your culinary world?
Indulgent and rock'n roll!
What for you is the must-eat summer special?
It all depends on the person and the season! We all have a different palate, so it's not easy to satisfy everyone … Personally, I enjoy something simple and regressive. I like the freshness and
originality of my latest sushi-shaped strawberry and rhubarb cheesecake.
Where do you get your inspiration from to create so many wonderful creations?
Everywhere I go. I am constantly turned ON, everything inspires me! I observe, I taste everything, this is my ultimate pleasure, to continually evolve and move forward.
Would you say pâtisserie is a passion or a satisfaction?
The ultimate passion, something almost bestial and instinctive … I would be like a lion in a cage without it. I love it so much that I can't do without it!
If you had to liken yourself to a dessert, what would it be?
Unquestionably, a Paris Brest. The praline is simply divine. Other versions also exist with hazelnut, pecan, pistachio …. The possibilities are endless, I just love it!!!
There is a trend today to make everything lighter, the sugar, butter, cream and so on (laughter). Do you think there's a place for a light creation in your boutiques?
30% of the sugar and fat in pastries has already been removed. If you want to indulge yourself a little, have your dessert at around teatime then have a light evening meal. Indulge yourself and follow it up with a bit of sport!
What childhood memory do you have in connection with pastries?
The custard tart my grandmother used to buy at a bakery in Senlis. It became my Proustian madeleine that takes me back to my childhood each time I eat one.
What projects do you have for the future?
I'm opening a new address that will be like a blend of my pastry and bakery activities, a place where people will want to stay for hours on end! And of course make my wife even happier. That's my biggest mission ever! (said with a smile).
What would you like to wish readers of LiFE Magazine?
Loads of great things, health, happiness and why not to check out one of
my pâtisseries (laughter)!